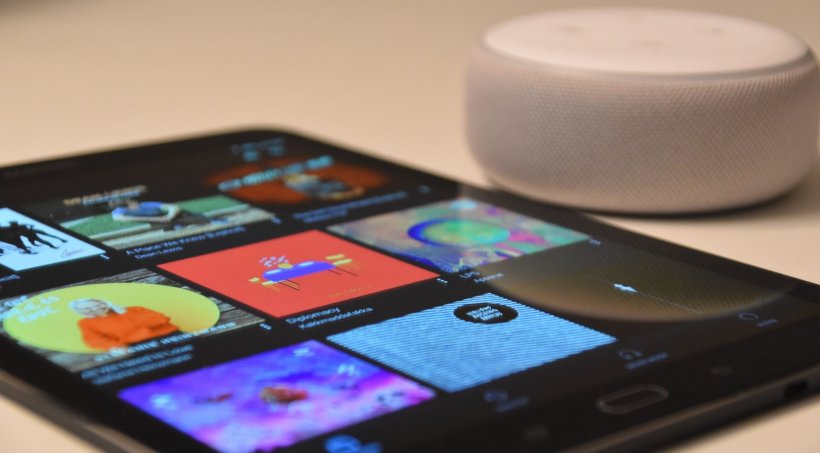 Image source: Unsplash/Waldemar Brandt
Article • Amazon's AI-powered personal voice assistant
'Alexa' joins the NHS
It's a world's first. The UK's National Health Service (NHS) is collaborating with Amazon to provide reliable health information from the service's website through voice-assisted technology.
Report: Cornelia Wels-Maug
Before the collaboration, consumers could seek health assistance from Alexa – Amazon's AI-powered personal voice assistant – but it's only since July that Alexa can solely source NHS-verified health information. In a speech announcing the service, Matt Hancock, Secretary of State for Health and Social Care, 'addressed the need for dependable information: 'So, when sick people need medical information, they'll receive NHS information: accurate, reliable, safe. This will particularly benefit people who rely on voice-activated tech because they struggle with other devices.' Knowing all too well the worrying outcome a random Google search on health issues can produce, Hancock continued: 'We all know that Dr Internet can potentially misdiagnose a minor ailment as something terminal, but what about the converse?'
Now Alexa will be able to answer questions such as: 'Alexa, how do I treat a migraine?' 'Alexa, what are the symptoms of flu?' 'Alexa, what does chickenpox look like? Alexa will also provide guidance, explained Hancock. 'It means people will know when they should see their GP or go to A&E. And when, and how, they can treat common illnesses with the help of a pharmacist', he emphasised.
Facilitating access via voice commands
This agreement particularly addresses the needs of elderly or blind patients and those who cannot access the internet via traditional devices. It also reflects the growing relevance of voice-enabled searches. The DHSC quoted an estimate that by 2020, half of all searches will be made using voice-assisted technology. The NHS does not plan to give patients Amazon Echo devices – the voice-activated speakers that connect to the Alexa service, but to facilitate access via a free app.
By taking some of the burden off general practitioners (GPs) and other NHS services and using technology to give advice on common ailments instead, the collaboration is an attempt to lessen the strain on the healthcare system.
This is not the first time the NHS uses Amazon's voice technology. Partnering with AWS and Arcus Global, the NHS Business Services Authority (NHSBSA) has already used Amazon Lex – the conversation engine that is also behind Alexa – to automate processes in its contact centres. This is also not the first time that the NHS has teamed up with private sector companies to deliver healthcare: Babylon Health, Push Doctor and Now GP, among others, offer remote video appointments with GPs.
Digitising healthcare delivery
By working closely with Amazon and other tech companies, big and small, we can ensure that the millions of users looking for health information every day can get simple, validated advice at the touch of a button or voice command

Matthew Gould
This initiative is part of a much broader strategy laid out in the NHS Long Term Plan published in January 2019. To improve the quality of patient care and health outcomes whilst lessening pressure on the health service over the next ten years, it intends to make more services available digitally. These will be implemented by the newly created NHSX, the digital arm of the NHS, launched earlier in July 2019. One of its first tasks will be to spearhead the Alexa service as part of its broader remit to foster the digital transformation.
'By working closely with Amazon and other tech companies, big and small,' commented Matthew Gould, NHSX's chief executive, 'we can ensure that the millions of users looking for health information every day can get simple, validated advice at the touch of a button or voice command. Part of our mission at NHSX is to give citizens the tools to access services and information directly, and partnerships such as this are an important part of achieving this.'
Healthcare is not new for Amazon
The Amazon/NHS collaboration is just one example of Amazon's recent attempts to strengthen its presence in the healthcare space: In 2018, the company joined forces with Omron Healthcare to allow a blood pressure monitor to be controlled through Alexa; it agreed to purchase US-based online pharmacy PillPack and was granted a US patent allowing Alexa to recognise if a person is ill by analysing speech and suggest a shipment of appropriate medication. Additionally, Amazon announced software that mines patient health records for information that helps physicians improve treatments and hospitals cut costs. The company highlighted the insights can help healthcare organisations with clinical decision support, revenue cycle management and population health.
Who else listens, Alexa?
The announcement of Alexa's official admittance into healthcare has prompted privacy concerns as Amazon's employees listen regularly to recordings from the Echo devices as part of the development process for new services. However, Amazon stressed it would not share any health data with third parties, nor make product recommendations, or build a profile of customers' health based on the collected audio information. An Amazon spokesperson reassured that all data was encrypted and kept confidential, adding: 'Customers are in control of their voice history and can review or delete recordings.'
Hancock's vision for the future
Technology will play a significant part in how Hancock envisions the shape of tomorrow's healthcare. And, for this, he is determined to introduce 'tech that people use and rely on every day'. Therefore, the collaboration with Amazon will be the first in a series of others with businesses that can deliver to this tune: 'And I want to see us build similar relationships with Google, Apple and anyone else …'