Sponsored • Mammography
Advancing the Breast Continuum of Care
The pandemic has presented healthcare systems with new challenges, resulting in backlogs of routine screenings and delayed procedures which threaten the health and wellbeing of patients, as well as the ability of facilities to serve their communities. In order to address these widespread issues, we need to ensure that healthcare professionals are able to operate with precision, confidence and efficiency.
Especially now amidst the ongoing pandemic, it's important to assess ground-breaking technologies and understand how interconnected innovations can help enable today's providers to take on tomorrow's challenges.
As a global champion for women's health, Hologic is committed to helping healthcare professionals around the world diagnose and treat their patients with certainty and effectiveness, providing insight-driven solutions that encompass the full clinical continuum of breast health. By addressing the entire patient pathway, our innovations enhance workflow efficiency, reduce facility costs and improve patient outcomes. These innovations include: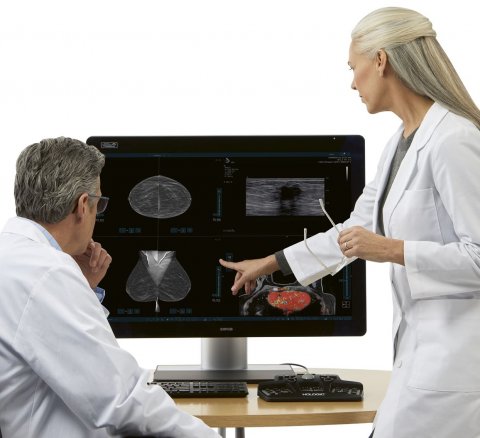 Streamlining Workflow with Artificial Intelligence
Artificial intelligence is a crucial component for the future of women's healthcare and an effective solution to help address the current backlog issues facing radiologists. The European Commission Initiative on Breast Cancer (EBIC) guidelines on breast cancer screening and diagnosis recently recommended for the first time the use of either digital breast tomosynthesis (DBT) or digital mammography in screening. While the additional breast imaging slices generated by DBT, also known as 3D mammography, can enable better cancer detection, the influx of images can also lengthen the reading process. Hologic's 3DQuorum Imaging Technology, Powered by Genius AI, is designed to help improve mammography efficiency and workflow without compromising image quality, sensitivity, or accuracy. By reconstructing high-resolution 3D data to produce 6 mm "SmartSlices," 3DQuroum reduces the number of 3D images to review by two-thirds and saves radiologists an average of one hour per eight hours of daily image interpretation time.1
Bringing 3D Imaging to Breast ­Ultrasound
Ultrasound has become an increasingly important tool for breast cancer diagnosis, enabling clinicians to assess breast lesions and anatomical structures without any radiation exposure. To further enhance the diagnostic accuracy offered by the SuperSonic Mach 30 and 20 ultrasound systems as well as improve patient outcomes, Hologic introduced 3D ultrasound imaging, allowing breast tissue to be visualized in any scanning plane. The additional details provided may assist clinicians in the workup of difficult lesions, including in patients with dense breast tissue.2 Paired with the system's ShearWave PLUS elastography, 3D imaging may also contribute to more accurate tumour size estimation,3,4 and clear margin definition in pre-operative settings. Furthermore, the innovation may play a role in monitoring and evaluating breast cancer patients during and after neoadjuvant chemotherapy.5,6,7
Improving Digital Specimen Radiography
Digital specimen radiography is an essential part of breast health care and treatment, helping to diagnose patients as well as ensure proper removal of suspicious lesions. Optimised for today's healthcare environment, Hologic's Faxitron Path+ Specimen Radiography System features a superior, high-resolution imaging detector enabling pathologists to image a wide range of specimens of varying sizes. By combining a larger field of view with intuitive, easy-to-use software, the system provides pathologists with accurate results in an efficient manner. This immediate access to high-resolution imaging and reporting helps reduce turnaround time and enables quicker patient diagnoses, as well as treatment.
Our mission to advance the Breast Continuum of Care is built upon an unwavering commitment to providers and their patients. Throughout the challenges and uncertainty of the past year, the healthcare field has been incredibly resilient, inventive and supportive. By continuing to collaborate as we navigate the ongoing pandemic, we can help ensure that healthcare professionals are equipped with the necessary tools and knowledge to provide expert care across the entire patient experience. By working together, we can deliver the ultimate solution.
References:
1 Report: CSR-00116
2 Berg WA, Blume JD, Cormack JB, et al. Combined screening with ultrasound and mammography vs. mammography alone in women at elevated risk of breast. JAMA, 2008;299(18):2151-2163 cancer [published correction appears in JAMA, 2010;303(15):1482]
3 Farrokh A, Maass N, Treu L, et al. Accuracy of tumor size measurement: Comparison of B-mode ultrasound, strain elastography, and 2D and 3D shear wave elastography with histopathological lesion size. Acta Radiol., 2018;60(4):451-458
4 Mullen R, J M Thompson, O Moussa, et al. Shear-wave elastography contributes to accurate tumour size estimation when assessing small breast cancers. Clin Radiol., 2014;69(12):1259-63
5 Athanasiou A, Latorre-Ossa H, Criton A, et al. Feasibility of Imaging and Treatment Monitoring of Breast Lesions with Three-Dimensional Shear Wave Elastography. Ultraschall Med. 2015 Mar 5.
6 Ma Y, Zhang S, Li J et al. Comparison of strain and shear-wave ultrasonic elastography in predicting the pathological response to neoadjuvant chemotherapy in breast cancers. Eur Radiol. 2017;27(6):2282-2291
7 Lee SH, Chang JM, Han W, et al. Shear-Wave Elastography for the Detection of Residual Breast Cancer After Neoadjuvant Chemotherapy. Ann Surg Oncol., 2015;22 Suppl 3:S376-84
More on the subject:
More on companies: