News • AACC Disruptive Technology Award
Developers take diagnostics to the patient
Over the last several years, technological advancements have enabled the development of tests that can be performed right where the patient is, whether that's in a hospital room, primary care office, or community health center.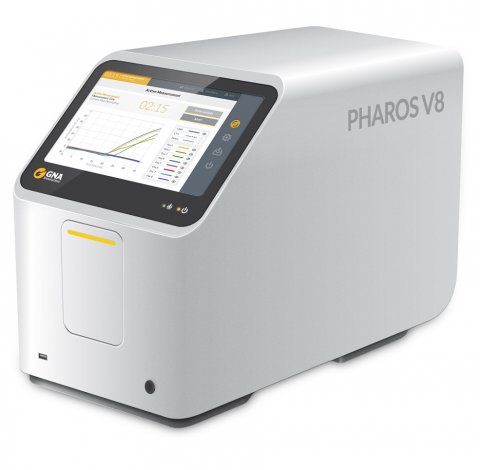 This is a paradigm shift in healthcare delivery that will make it easier for patients to get accurate diagnoses and treatment, and could especially benefit patients in resource limited or remote settings that don't have fully equipped clinical labs. AACC launched its new Disruptive Technology Award to support the diagnostic developers at the forefront of this shift, while also giving lab experts the chance to evaluate the science behind these novel technologies and their potential impact on patient care. Ativa Medical, GNA Biosolutions, and Two Pore Guys are the three developers to compete for the award this year and were selected by AACC's clinical testing experts from a pool of 42 applicants.
During the Disruptive Technology Award Session at the 70th AACC Annual Scientific Meeting:
Ativa Medical presented a fluid processing engine integrated into a low-cost, disposable card that performs the major test panels that form the backbone of blood testing. This advancement could enable clinics to obtain routine test results at the patient's bedside rather than waiting for traditional blood test results to come back from the lab.
GNA Biosolutions presented Pulse Controlled Amplification (PCA), a technology that significantly accelerates nucleic acid amplification—an integral step in the diagnosis of many infectious diseases. Using PCA, healthcare providers could identify individuals infected with dangerous pathogens in non-traditional testing environments within minutes, and with the sensitivity and specificity of laboratory-based tests.
Two Pore Guys (2PG) presented data on a 6 inch by 6 inch diagnostic device that uses solid-state nanopores to detect any molecule of interest, including DNA and RNA, proteins, metabolites, and drugs. Nanopore-based testing could improve diagnosis for a diverse range of illnesses, including cancer, autoimmune conditions such as type 1 diabetes, and bacterial infections such as tuberculosis.
The groundbreaking devices featured at AACC's Disruptive Technology Award Session have the potential to transform clinical testing—and the entire model of the modern healthcare system

Janet B. Kreizman
After the three teams' technology presentations, a panel of clinical testing experts scored the devices and selected the winner based on feasibility and performance at the end of the session.
"The groundbreaking devices featured at AACC's Disruptive Technology Award Session have the potential to transform clinical testing—and the entire model of the modern healthcare system," said AACC CEO Janet B. Kreizman. "There is no better place for these technologies to be presented than the AACC Annual Scientific Meeting, where leaders in laboratory medicine can assess the utility of these devices and potentially accelerate their adoption into patient care."
GNA Biosolutions was named the winner of the Disruptive Technology Award competition and also won the audience choice award. "We are honored to receive the Disruptive Technology Award from the AACC" said GNA Biosolutions co-founder and Managing Director Lars Ullerich. "Being recognized for our PCA technology is a proud moment for our whole team and we look forward to delivering it to the Point of Care."
Source: AACC