Article • Inks and polymers
3D printed pharmaceuticals for personalized therapies
60 percent of all administered drugs do not have the desired therapeutic effect. Even worse: in Germany alone about 60,000 deaths per year are caused by medication. With these shocking statistics Professor Dr Christian Franken started his presentation on "Pills from the 3D printer" at last year's Medica in Düsseldorf. He hopes that his vision of personalized medication based on 2D and 3D printed active ingredients can provide significant improvement.
Report: Sonja Buske
'Nobody would ever think of prescribing all diabetes patients the identical dose of insulin. Rather, each patient receives their personalized dose that is administered at the correct point in time, for example via an insulin pump,' points out Professor Franken. With pills, however, this doesn't work since cutting them in two or at most four pieces rarely provides the exact required dose. 'This can lead to over- or underdosing, particularly with older patients who have to take several pills each day. Inadequate medication does not only cause side effects but contributes to patient non-compliance which in Germany generates estimated costs of about 10 million euros each year.'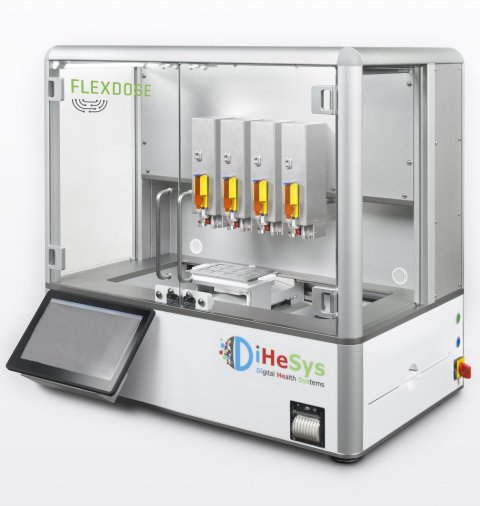 Professor Franken, a pharmacist by training, is working on a solution: his company Digital Health Systems (DiHeSys) developed 2D and 3D printers for drugs. The systems can produce exact doses according to physicians' specifications based on the patient's gender, age, weight, blood and tumour values, intolerances and other parameters. This ensures that patients receive their medication at the correct point in time and with the correct dosage; moreover, it will improve efficacy and tolerance of pharmaceuticals and reduce medication errors. The printed pills are more expensive than the conventional pressed version since they are made to order. Nevertheless, health insurers expect not only increased quality but also lower overall costs since superfluous visits to specialized physicians and unnecessary hospital stays can be avoided.
2D: ink with active ingredients
In 2D printing, the active ingredient is printed as a special ink on 8 cm2 wafers which dissolve in the mouth within about 20 seconds. 'This is the ideal solution for children or older patients who have problems swallowing,' says Franken. Moreover, particularly in paediatrics many drugs are not available in the required dosage and the pharmacists have to make individual pills. Exact dosage however is important when the difference between the desired effect and toxicity is very small, Franken points out. Thus, he considers printed drugs particularly promising in neurology, cardiology and oncology.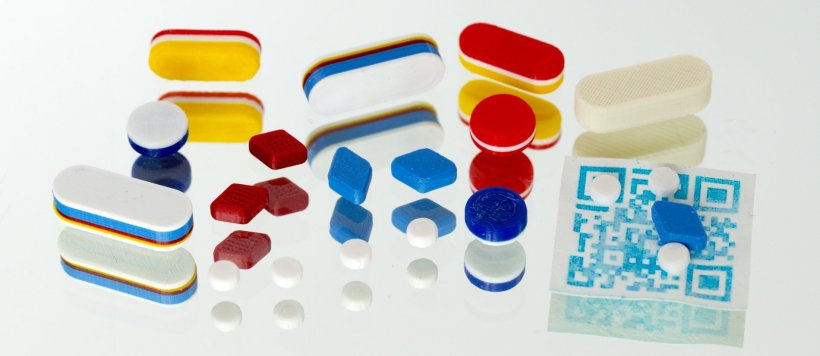 3D: layered polymers
2D printing has certain limitations: the wafer can only take a maximum of 40 mg of an active ingredient and delayed release is not possible since the substance must come in fluid form. 3D printing offers an important alternative with several polymers carrying active ingredients being layered. Ideally, the patient only has to take one tablet per day which is tailored to their individual needs. 27 ingredients are currently being developed in ink or polymer form. Three printers have been made available to pharmacies both inside and outside of hospitals; eleven further printers have been ordered in Europe and the US.
Reduction of garbage
About half of all drugs produced never reach the patient

Christian Franken
Printed drugs have another significant advantage: blister packaging becomes obsolete. Franken explains that 'when we only produce the volumes that we really need, pharmaceutical garbage decreases. About half of all drugs produced never reach the patient. Today, it is not unusual for large pharmaceutical companies to manufacture batches of 15 million tablets in order to reduce the costs per piece.'
The founder of DiHeSys would like to see drug production move from big plants to pharmacies – much closer to the patient. This would not affect the pharmaceutical industry negatively, Franken underlines, since companies such as DiHeSys would partner with drug companies. He is optimistic that 'personalized medicine based on 2D and 3D printing will dramatically increase speed and flexibility, and thus also efficiency and efficacy in research and development – which will benefit drug companies.'