3D medical imaging anywhere & anytime
Medical imaging innovator Barco unveiled AVT, a new advanced visualization solution with which doctors can read volumetric studies throughout the hospital, in a remote office, or even at home. This solution makes the diagnostic process considerably faster and more flexible.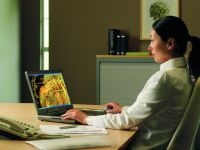 Advanced visualization is increasingly used by radiologists, cardiologists and many other clinicians to get the most from their modalities. However, until now, access to 3D has been largely restricted to diagnostic workstations in a reading room. AVT puts an end to these restrictions. This true thin client solution enables users to access advanced visualization with a basic pc and a standard network connection or broadband service.

The high-performance server architecture that AVT is based upon employs state-of-the-art graphics processing and image distribution technology that provides full functionality over low bandwidth. This guarantees smooth distribution of advanced visualization, not only over the hospital's network, but to remote offices and even homes using a standard broadband connection. Moreover, the server architecture is fully scalable, making it the ideal solution for large, multi-site hospitals or hospital groups.

"Our years of experience with 3D enabled us to pinpoint the challenges faced daily by clinicians," explains Calum Cunningham, Barco's Market Director for Advanced Visualization. "Smooth distribution of 3D images is at the top of the priority list. If advanced visualization is only available in the reading room, doctors cannot access it when and where they need it. With AVT, they can view all images instantly from anywhere – even from home. In addition, AVT's seamless integration with major PACS solutions enables users to open 3D images with one mouse click from their PACS. All demographic details are synchronized between AVT and the PACS, so any changes made on one platform are automatically updated in the other. 2D and 3D imaging therefore becomes part of the same worklist, another important user demand."

AVT uses powerful, off-the-shelf server technology and graphics cards. This means users are not locked into expensive, proprietary hardware development cycles, and existing IT infrastructure can still be used. Users also benefit from the latest IT technologies at the most competitive prices. Moreover, AVT's concurrent license system allows hospitals to make advanced visualization available with maximum cost-effectiveness.

To meet the specific needs of all physicians, AVT offers a complete family of advanced visualization tools:
AVT Reader provides everything for high-volume, general reading of CT, MR and PET in one simple package.
AVT Vessel is dedicated to quick, accurate quantitative analysis of CTA and MRA studies, with a workflow streamlined for vascular analysis and stent-graft planning.
AVT Cardia-S provides quantitative structural analysis of CT cardiac studies. The workflow is focused and highly automated.
AVT Cardia-F offers quantitative functional analysis of CT cardiac studies, with a similar workflow to Cardia-S.
AVT will be released in Q2 2008.
More on the subject:
More on companies: