News • Commercial-scale manufacturing
1.4 million grant for resorbable implant development
Medtech company BellaSeno and the Fraunhofer Institute for Production Technology IPT have received a grant totaling EUR 1.4 million for the development of commercial-scale, fully automated additive manufacturing of resorbable medical implants.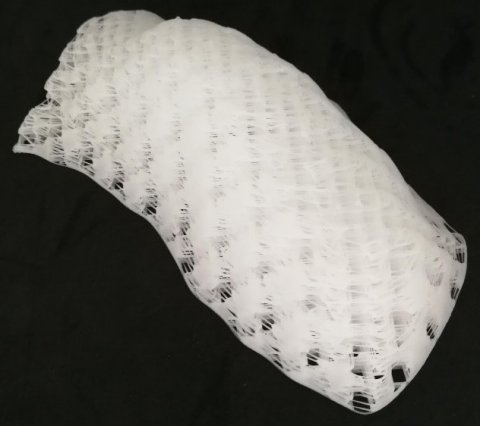 The grant was issued by Germany's Federal Ministry of Education and Research (BMBF) under the funding program KMU-innovativ. BellaSeno and Fraunhofer IPT aim to develop a high-performance industrial scale-up process for its GMP-compliant manufacturing facilities, which include leading-edge features such as high-througput additive manufacturing based on the so-called no-touch approach to significantly improve the safety and sterility of medical implants. Specifically, the collaboration partners plan to establish a fully automated, commercial-scale manufacturing platform supported by robotic systems and intelligent software which control the polymer-feeding, the implant handling, QC steps, labelling and recording traceability data. This will enable a constant 24-hour manufacturing flow covering all necessary process steps, while minimizing mistakes and optimizing the outcome of the production. With this approach, BellaSeno intends to significantly shorten development and manufacturing times and at the same time enhance the quality of its medical implants.
A freely moving, autonomous robot, fully networked processing units and an adaptive, service-oriented software structure allow repeatable and high quality manufacturing by maintaining full flexibility in the production process

Ferdinand Biermann
"So far, the key steps in the additive manufacturing process had to be performed manually," said Dr. Navid Khani, Head of R&D at BellaSeno. "The BMBF grant and the collaboration with Fraunhofer IPT will allow us to pursue a 3- to 4-fold increase of productivitiy for commercial-scale manufacturing driven by robotics and automation. As soon as we have fully established the new infrastructure, we will be able to create a cloud-based factory which can enable manufacturing at different locations and adapting the design by the push of the button. Such a fully scalable, automated, cloud-based additive manufacturing infrastructure for medical implants has never been established before."
"The joint project combines BellaSeno's extensive knowledge in 3D-printing high quality absorbable scaffolds and their ingenious Senella implant with Fraunhofer IPT's vast experience in the development of fully automated cleanroom production facilities," said Ferdinand Biermann, Head of the business unit 'Life sciences engineering' at the Fraunhofer IPT. "A freely moving, autonomous robot, fully networked processing units and an adaptive, service-oriented software structure allow repeatable and high quality manufacturing by maintaining full flexibility in the production process. Not only will the production site make it possible to bring products to market that immensely increase the patient's quality of care, but it will also set a new benchmark for the automated production of medical implants."
Source: BellaSeno