Integration in 3 stages
Hospitals increasingly co-operate with other establishments, and networking is becoming a way of life. Such change is also occurring in many hospital laboratories. By co-operating with other hospital labs and laboratory institutes, hospital labs try to improve their financial situation.

By Dr Burkhard Ziebolz of Roche Diagnostics GmbH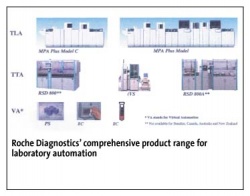 Some tests, due to the small numbers involved, are uneconomical to implement, and often can be provided more cost-effectively by a laboratory institute. Co-operation between several hospital laboratories can also produce significant cost savings in service provision by allowing individual hospitals to concentrate on specific analyses (e.g. tumour markers, infection serology, etc). Studies have shown that such strategies can also have a positive effect on the quality of results.

At the highest level of co-operation, all routine analyses can be focused in one location. This produces the highest economies of scale and thus the greatest financial improvement. Before such a strategy can be implemented, the legal - and particularly the organisational aspects, e.g. the medical needs of the participating doctors - need to be analysed. The organisation of such co-operation models by Roche Diagnostics is based on years of experience and several successfully implemented strategies.

Optimisation in diagnostics requires integration at various levels, starting at the small scale: Within the hospital, the work involves tasks performed in the laboratory, co-operation between several in-house laboratories and the interaction between centralised and decentralised diagnostics. On the large scale, this process continues, with co-operation between several hospitals and the interaction between the hospital, private laboratory and doctor in private practice. Offering advice, products and support, Roche helps in the implementation of efficient laboratory processes and development of a laboratory as a service provider (CONSULAB services). In each individual case the process is implemented in close co-operation with the customer.

Stages of automation that form the backbone of this service:
1. Support for manual workflows
2. Task Targeted Automation (TTA) i.e. part automation, automation of certain operations
3. Total Lab Automation (TLA)

These stages are served via equipment platforms. On the basis of the laboratory types prevailing in the market, Roche Diagnostics developed nine concepts that aim to take those laboratory types to a higher level of efficiency. Each concept is adapted individually to the specific laboratory situation, so that almost all our clients' needs are satisfied with relatively low complexity. The automation solutions cover the whole workflow, from centrifugation, via decapping, sample sorting, aliquoting, recapping to archiving. In providing support in the form of advice and implementation, Roche can rely on a solid base of experience: All of the relevant processes have already proved effective in practice.
More on the subject:
More on companies: