Mammo Workstations • Hologic, Inc.
Hologic · I-View 2.0 Contrast Enhanced Imaging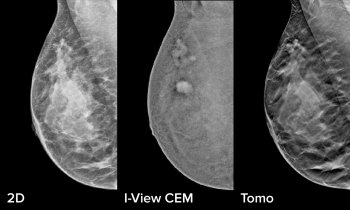 Highlights
I-View CEM software can capture both anatomical and functional information in 1 exam by leveraging the ability to provide 2D, Contrast and Tomo images all under 1 compression. The smooth, lower dose contrast image preserves the high-definition image quality helping increase diagnostic confidence guiding the clinical pathway from diagnosis to surgical management as an effective and more patient-friendly alternative to MRI1.

1: Patel BK., et al, Potential Cost Savings of Contrast-Enhanced Digital Mammography. AJR Apr 2017 Jun; 208 (6): W231–W237.