Artificial Intelligence • Canon Medical Systems Europe B.V.
Canon · CT Image Reconstruction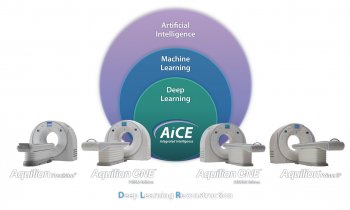 Highlights
The power of AI is brought to routine and spectral CT imaging by Canon Medical's Deep Learning Reconstruction technologies: Advanced intelligent Clear-IQ Engine (AiCE) and Spectral Reconstruction. AiCE is a fully integrated DLR technology for noise free CT images while PIQE reconstructs cardiac scan in super resolution. AI in Spectral Reconstruction results in a zero temporal off-set between low kV and high kV data sets.