Paediatrician is European of the Year
Leonid Roshal
Russia - Leonid Roshal, 71, paediatrician and head of the Moscow Scientific Research Institute for Emergency Children's Surgery and Traumatology, has received the Reader's Digest European of the Year Award 2005 for his tireless and dedicated work helping children who have been injured in disasters and conflicts around the world.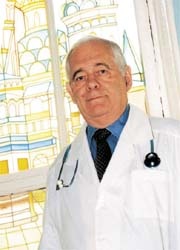 Dr Roshal's international aid work began in 1988 when he and 34 doctors from Moscow's hospitals volunteered for the relief effort after Armenia's earthquake. There he encountered 'crush syndrome' - i.e. if flesh around broken limbs appeared 'dead', amputation was the standard treatment. Dr Roshal went on to develop and hone techniques to save the limbs, and he also set up the International First Aid Brigade. The following year he led a team to Chelyabinsk-Ufa, after sparks from two trains had met with a leaky natural gas pipe, triggering an explosion that killed 573 and injured over 600.

Since then he has helped in two dozen major incidents on four continents, including the first Gulf War, Romania, former Yugoslavia, Nagorno Karabakh, the USA, Egypt, Japan, Afghanistan, Turkey, India and Algeria.

He came into international focus in 2002, when he managed to negotiate the release of some of the hostages held by Chechen terrorists in Moscow's Dubrovka Theatre. Then again, last September, he mediated for three days with terrorists who had seized School Number One in Beslan. He had also liased with local hospitals to prepare for casualties - invaluable planning after an explosion in the school and gun battle outside, left 379 people dead. 700 of the injured received medical attention within two hours.

The Editors-in-Chief of the 18 European editions of Reader's Digest magazine - reaching 4.2 million subscribers - choose the 'European of the Year' (value: 5,000 euros) on the basis of who they think best embodies the contemporary expression of Europe's values and traditions. Dr Roshal's achievements were featured in the magazine in January.