Article • Heard at JFR 2021
Women in interventional radiology take center stage
Gender-specific benefits of women should have a greater impact in interventional radiology (IR). But also, the field should see more women practicing the craft. These were among the main take-home messages of the most recent annual meeting of the French Society of Radiology (JFR).
Report: Mélisande Rouger
Speakers focused on the benefits brought by IR to women's health and the global shortage of women interventional radiologists.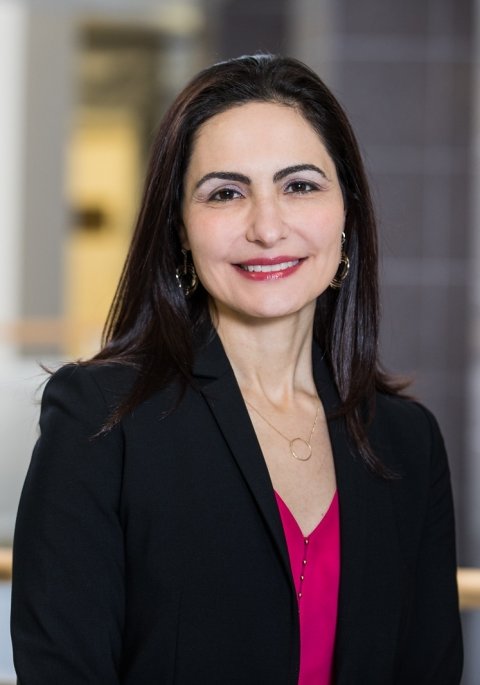 Interventional radiology offers significant benefits in the treatment of infertility, post-partum issues and symptomatic uterine fibroids, reported Professor Maureen Kohi, chair of the radiology department at the University of North Carolina in Chapel Hill, USA, in a dedicated session.
According to figures provided by the University of California, Los Angeles (UCLA Health), infertility is a global problem that affects 15% of couples trying to conceive. Roughly a third of cases are caused by diseases concerning the fallopian tube. IR can help many of these couples procreate, Kohi explained: "10 to 25% of tubal disease are due to proximal tubal inclusion," she said. "Fallopian tube recanalisation is an effective treatment that can be provided in a minimally invasive fashion to address this problem." Recanalisation is less aggressive than surgery and may help women avoid potential emotional turmoil caused by other options like in vitro fertilisation, adoption, or surrogacy, Kohi noted.
Saving a woman's life – and her childbearing potential
Another important issue is the high number of women who die while giving birth, often caused by post-partum haemorrhage. Uterine artery embolisation (UAE) has proven an effective treatment option for this major cause of pregnancy-related morbidity and mortality worldwide. "When you see a pseudoaneurysm or some sort of uterine artery anomaly, going ahead and performing a uterine angiography and embolisation can be an amazing way of saving a woman's uterus and her potential for getting pregnant in the future," the expert said. Success rate with UAE in post-partum bleeding is very high, well above the 90% threshold, Kohi reported, with delayed treatment being the most common cause for failure. "The key is having better communication with the obstetrics haemorrhage team and tell the obstetricians to call as soon as possible to improve patient prognosis."
Morbidly adherent placenta, another abnormal condition after birth, has increased over the last decade. Patients quickly lose a lot of blood, with 40% requiring more than ten units of packed blood cells – a quantity that many hospitals are not able to provide. Different solutions exist to manage the condition, but most recommendations point to a caesarean, followed by hysterectomy. Catheterisation helps reduce blood loss during those complex interventions, Kohi explained. "We can place occlusion balloon catheters before or after delivery to minimise blood loss during hysterectomy," she said. However, the procedure exposes the foetus to radiation and is subject to controversial discussion in literature. Kohi performed a registry study at her former institution at the University of California to assess the outcomes of balloon occlusion. She found the procedure was associated with decreased estimated blood loss (EBL), transfusions, ICU admissions and adverse events compared to internal artery ligation or no adjunctive interventions.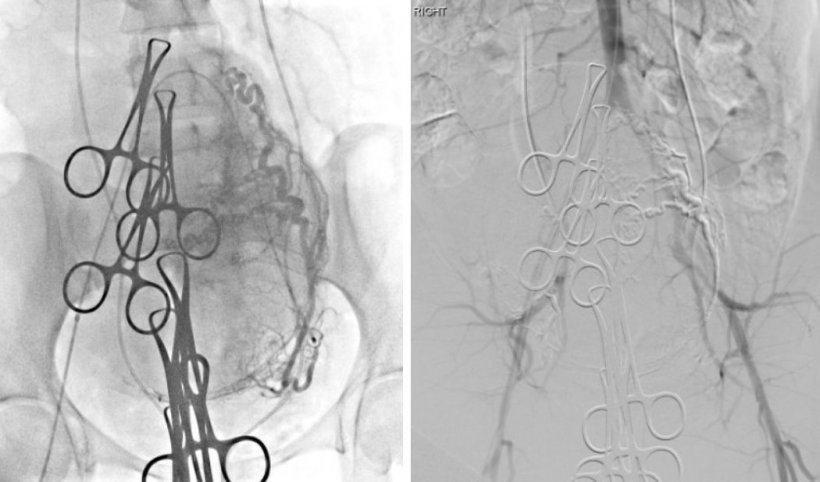 Bilateral uterine embolisation can also be performed after caesarean delivery and before hysterectomy whenever a hybrid OR is available. "Research has showed that embolisation led to less blood loss, less hospitalisation, less time spent in the ICU and very little adverse reaction compared with surgery," Kohi noted. Embolisation is also highly recommended in the treatment of symptomatic uterine fibroids, the most common reason for hysterectomy in the US. "It's a great treatment and it's been tested with excellent level of evidence and over time," she concluded.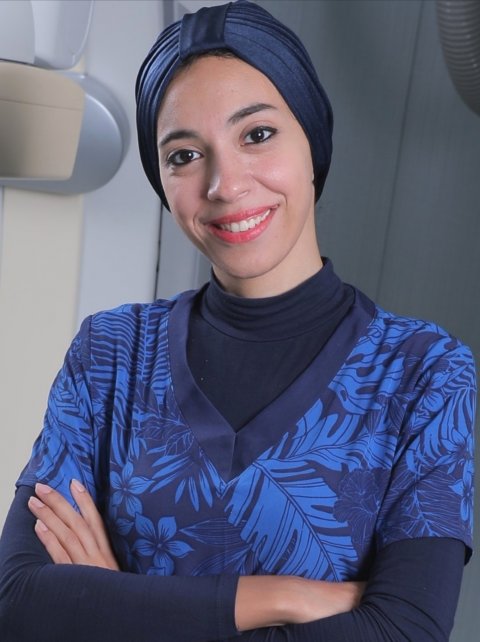 Tackling another aspect, Rana Tarek Khafagy, an IR consultant at Ain Shams University Hospital in Cairo, Egypt, highlighted the global shortage of female interventional radiologists. "Although the prevalence of women in radiology has increased over the past few decades, there's still a remarkable lack of women interventional radiologists all over the world," said Khafagy, sharing international data on the gender breakdown in the profession.
In the UK, 50% of medical graduates are female, but only 10% of body IR consultants are women, according to the 2016 UK Radiology Workforce Census.1 Recent publications in the Journal of Vascular Interventional Radiology attest similar conditions in the US and China, where women account for roughly 9% of interventional radiologists.2,3 Perhaps more strikingly, no woman identified as an interventional radiology or interventional neuroradiology sub-specialist in the Australian and New Zealand College of Radiologists workforce census in 2018.
Khafagy also described the situation in her mother country Egypt, where, due to the conservative and socioeconomic environment, female physicians have traditionally been underrepresented, at a current 5.9% of IR consultants. "Interest has been growing for the past few years," said the expert, who recently conducted the survey at various Egyptian universities on current challenges women face when specialising in the field.4 Radiation exposure and its potential consequences on pregnancy were identified among the main impediments to a career in IR, along with the nature of the profession and its associated stress, she said. "We should now address those concerns and insist that interventional radiology can be practiced safely," she concluded.
References:
1 Royal College of Radiologists 2017; Clinical radiology UK workforce census 2016 report
2 Higgins et al., Underrepresentation of Women and Minorities in the United States IR Academic Physician Workforce. Journal of Vascular and Interventional Radiology 2016

3 Zeng et al., Benchmark Status of Women Interventional Radiologists in China, Journal of Vascular and Interventional Radiology 2021
4 Khafagy, Egyptian females' experience in interventional radiology field. Arab Journal of Interventional Radiology 2019
Profiles:
Dr. Maureen P. Kohi is professor of radiology and chair of the radiology department at the University of North Carolina in Chapel Hill, USA. Dr. Kohi is a well-known leader in Vascular and Interventional Radiology in clinical care, education, and research, as well as a nationally recognised women's health advocate. She has received many honours recognising her commitment and service to academic radiology and major areas of advocacy in medicine.
Dr. Rana Tarek M. Khafagy is an interventional radiology consultant at Ain Shams University Hospitals, Cairo, Egypt. She currently heads the Residents Fellows and Students (RFS) Committee of the Pan Arab Interventional Radiology Society (PAIRS) and is the regional leader of the #IAM_PAIRS Program in Egypt. Dr. Khafagy is also an editorial board member of the Arab Journal of Interventional Radiology (AJIR) and the main author and co-author in several peer reviewed publications. Her main areas of interest include women's health, embolisation and oncological interventions.