Article • Virtual reality
VR glasses could ease trauma of waking up in an ICU
A patient walks slowly into the Intensive Care Unit (ICU). He sits on a hospital bed, hears unfamiliar beeps and other sounds. Doctors and nurses arrive to talk about all the surrounding machines and how things work in an ICU. Everything is calm and without stress for the patient as he listens to them. Then the virtual reality (VR) glasses he is wearing are removed, and he returns to reality.
Report: Madeleine van de Wouw
The walkabout was a scenario. Its purpose was to deal with the traumatising effects of a sudden ICU admittance by having prior experience of being there. Dr Michel van Genderen, an intern at Erasmus MC, works at the Franciscus Gasthuis & Vlietland in Rotterdam, The Netherlands, where, in November 2017, he initiated research into a method to help patients through Post Intensive Care Syndrome (PICS) by using VR. The project also includes Jolanda van der Wal, GZ-Psychologist at the same hospital, ICU specialists Evert-Jan Wils and Arjan Brouwers (Franciscus Gasthuis) and Jasper van Bommel (Erasmus MC).
Why VR-Goggles?
They awaken in an unfamiliar surrounding with noises they don't recognise; they see people they don't know and are surrounded by equipment on which their basic existence depends

Michel van Genderen
'Many patients are unexpectedly hospitalised and put into a coma in the ICU,' van Genderen points out. 'When they regain consciousness, patients speak of a "hole" in their memories. They awaken in an unfamiliar surrounding with noises they don't recognise; they see people they don't know and are surrounded by equipment on which their basic existence depends. Besides that, the patient is unable to communicate, due to the use of a ventilator. Research shows that many of them suffer from post intensive care syndrome. They endure psychological problems, like anxieties, depression and returning nightmares. Physical complaints, such as fatigue and cognitive problems, like amnesia and concentration-problems also occur. These problems lead to a lower quality-of-life.
'We think that, when a patient experiences the ICU through Virtual Reality he will be able to deal with all things that occurred in a better way, because he learns how he got into the ICU and what all the beeps mean. Virtual Reality is already being used to prepare patients for upcoming treatment, but for this project we use this technique as treatment after an unexpected event. Naturally one can't prepare for such events.'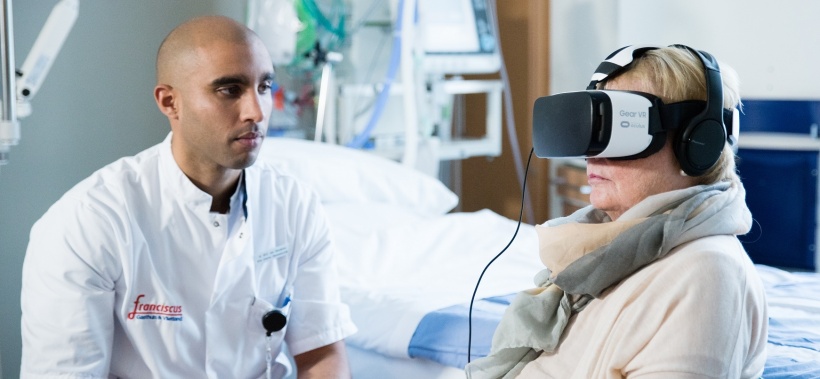 Post-intensive care syndrome
'This is still relatively unknown and not much research has been done. The figures regarding the prevention of the Post Intensive Care Syndrome are not very reliable. International research shows that approximately 30 to 60 percent of ex-ICU patients have complaints. Research at the four hospitals in Rotterdam shows that 50 to 60 percent have serious issues. We put two-and-a-half years in preliminary research before starting with VR. Initially we needed financial resources. Luckily we received a fund of €45,000 from Stichting Coolsingel, which was used to develop the software.'
Other trauma processing methods
'Sure, there are several forms like keeping a journal, reading brochures or watching information videos. This is not all very helpful to process the ICU treatment experience. A later visit to the ICU has shown to be more effective; however, that's almost impossible to organise. With Cognitive Processing Therapy (CPT) and Eye-Movement Desensitisation and Reprocessing (EMDR) you are completely reliant on your own memory and associations, which are not there for these patients. Using Virtual Reality is less dependent on memories and this may have a positive impact on patients. Many ex-patients have remarked that they feel out of control and would like to be able to experience the ICU again, with the explanation and context. VR might give them back control.'
The research project
This involves 50 patients at the Franciscus Gasthuis who were admitted to the intensive care unit (ICU) with sepsis (blood infection). On the fourth day after they are moved out of the ICU into a 16-bed ward, which provides five VR glasses, the patients can request the use of VR-glasses for one week. They are randomly divided into two groups: 25 patients see images of the ICU. 25 are the 'control' group and the images they see are of relaxing surrounding, such as a forest, concert or other soothing scene or event. All patients receive the same personal guidance.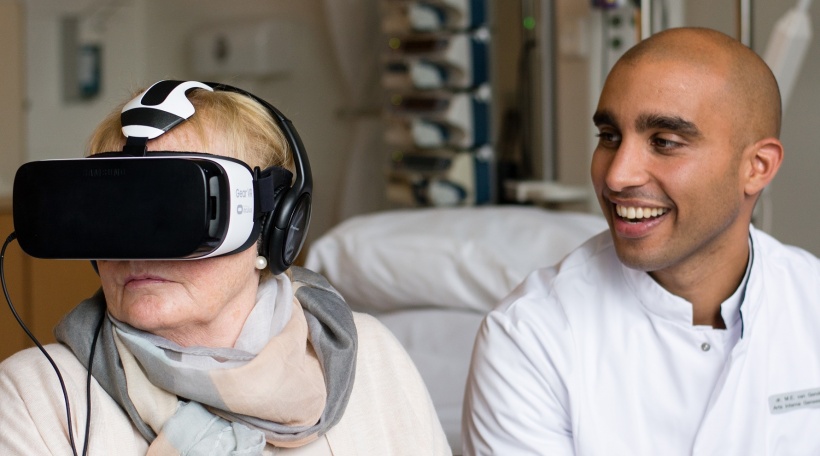 Research results
Initially the hospitals must invest in this technology but, down the line, it's also cost reductive for them

Michel van Genderen
'We expect to have results by mid-2018. If the results are positive, we can start to implement the method in other hospitals. We want to do this regionally, in cooperation with and from the Erasmus MC. Most important is that we can help patients. The fact that it is very effective was shown with our first test patient, José Smit, aged 63. She developed psychological problems after being committed to the ICU. After the treatment with the VR-exposure therapy she responded to have had a lot of help from it. She now sleeps and functions better. In the end, potentially it will reduce costs because patients will suffer less trauma. And there is the issue of the costs: aftercare will be less expensive.
'Initially the hospitals must invest in this technology but, down the line, it's also cost reductive for them. This research project might be a difficult path for patients – but not as difficult as experiencing the trauma – and the potential outcome is big. If the research results show that VR can be used as a preventive means, the gain will be even larger. In a couple of years, this may become mainstream.'
Profile:
Michel Egide van Genderen MD joined the ICU at Erasmus MC, Rotterdam, The Netherlands, in 2015, the same year in which he concluded his PhD. In 2016 he became an intern. In 2019 he will advance his training to become an intensivist. For his research, he aims to limit the impact of ICU re-admittance, and later to expand this understanding for other patient groups. He also wants to improve quality of care by training doctors and medical specialists to work with the technology he is using.