Vaccination may combat Clostridium difficile
UK - Whilst the life-threatening Clostridium difficile is not absolutely resistant to antibiotics, after an individual has been infected the bacteria often reappears.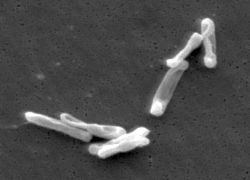 Vaccination against it is therefore seen as the possible answer, and now results from initial trials of one made by Acambis, a Cambridge-based biotech company, have encouraged its scientists to discuss involvement of the National Health Service (NHS) in tests in hospitals this year.
Rather than targeting the infection, this developing vaccine focuses on the toxins produced by a C. difficile infection. Trials on 200 patients indicate that the vaccine was effective at combating one of the major toxins in 100% of cases and a second major toxin in 75% of cases.
It is hoped that a course of three injections will provide long-lasting protection for over a decade.