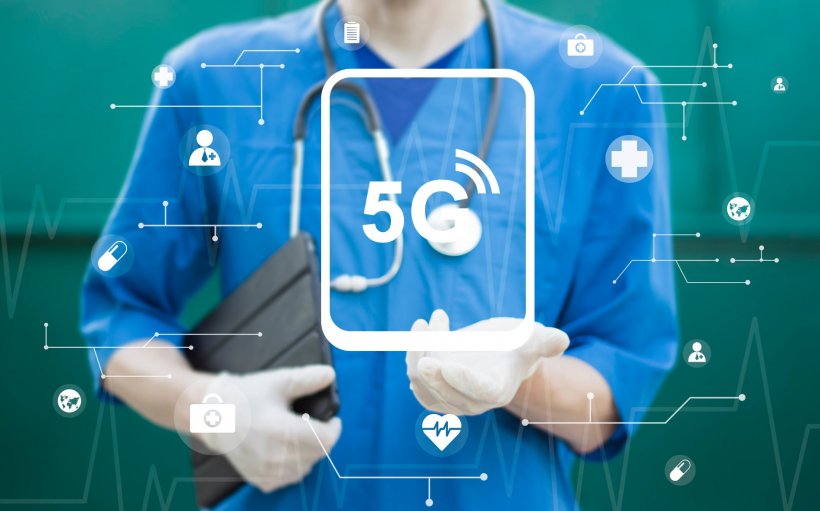 Image source: Shuterstock/MaximP
Article • Digital infrastructure
Update: 5G in German healthcare
This September, the symposium 5G4Healthcare, organised by the Technical University of Applied Sciences (Ostbayerische Technische Hochschule - OTH) Amberg-Weiden, Germany, explored how 5G can contribute to greater efficiency in healthcare.
Report: Cornelia Wels-Maug
The event was based on the insights from the 5G4Healthcare project at OTH. Launched in 2020, it is one of six research projects in the 5G innovation programme funded by the German Ministry of Transport and Digital Infrastructure. 'We are looking at the effects of the 5G technology and how it interacts with hardware and software and we explore interoperability as well as the health economy effects 5G might be able to generate,' Dr Steffen Hamm, Professor for Digital Healthcare Management at OTH Amberg-Weiden, explained in his opening remarks. The project aims to further the development of solutions that might serve as a blueprint for digital healthcare approaches in rural areas.
5G in a nutshell
5G is the 5th generation standard for broadband cellular networks. It offers high-speed transmission of large data volumes and low latency. In addition, unlike other standards, 5G can integrate a much higher number of user devices.
Benefits:
Enhanced mobile broadband

Data transmission rate of up to 10 Gbit/s
Stable connection even with high speeds (up to 500 km/h)

Massive machine-to-machine communication

Up to one million devices/km2
Energy savings of up to 90%; longer battery life

Ultra-reliable and low latency communication

Latency <1ms
Ultra-high reliability and availability (99.999%)

Network slicing: different requirements regarding speed, data rates and user/app capacities can be defined in each slice of a 5G network
Massive multiple-input/output: spatial transmission of the radio signal is calculated, thus signal can be adapted.
While other network technologies offer some of these features, none offers them all to the same degree as 5G.
Recommended article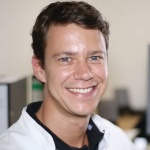 Article • Mobile data transfer
A 4G symbol next to the signal strength bar on a smartphone assures fast data transmission. 5G, the next generation of technology, is already waiting in the wings and could herald a new era for tele-surgery, PD Dr. Michael Kranzfelder is convinced. However, there are a few obstacles to overcome first.
5G added value in healthcare
5G meets the demanding requirements of e-health in terms of capacity, bandwidth, reliability, availability, latency and security and thus presents itself for different use cases, such as telemonitoring, mass connectivity of sensors and devices in the internet of things (IoT), wireless application in augmented and virtual reality, real-time data transfer with emergency services, robotics-guided telesurgery, live streams of surgeries, telediagnostics, location of devices and building infrastructure, transport of medication organs, etc. with drones.
Hamm pointed out that the deployment of 5G depends on the overall requirements of each use case: when only a single device needs to be integrated, 5G does not make sense, but with many devices it does. However, in German hospitals very few of the above-mentioned applications use 5G. 'In healthcare 5G hasn't evolved as quickly as in other areas,' explained Professor Dr Hans Dieter Schotten, Chair of Radio Communication and Navigation at the University of Kaiserslautern. The reasons are, inter alia, 'the high availability requirements, but also to the very specific regulation of the healthcare sector, the lack of experts and lack of market transparency. Moreover, financing 5G is very difficult. The public 5G networks, which are designed for 95% availability, don't meet a hospital's very high requirements regarding security, latency and availability.'
5G in German hospitals
Robotics is a major case for 5G as latency is required, for example to disinfect potentially contaminated surfaces in the OR

Tobias Friedrich
Holger Mauerer, Executive Customer Solution Architect for Vodafone, confirmed that 5G in German healthcare is still a rarity: '5G is used particularly where huge data volumes need to be transmitted – in telemedicine, for VR googles in the OR or by emergency services that have to access patient records, or need the support of hospital physicians during patient transport.' Moreover, according to Mauerer 5G is used for asset management, particularly asset tracking such as beds, and vital signs transmission via IoT sensors. 'During the pandemic, 5G helped move the check-in area outside the hospital proper. This entailed mobile solutions, such as face mask recognition or measuring body temperature,' he added.
Tobias Friedrich, Account Manager at Nokia, expects 5G use to go beyond asset tracking in hospitals and will include robotics and telemedicine: 'Robotics is a major case for 5G as latency is required, for example to disinfect potentially contaminated surfaces in the OR. 5G is also important for teleconsultation and teleboards in the hospital or radiological remote diagnostics.' He added that 'Logistics is another important area which might include many aspects such as the transport of medicatio.'
Image source: Shutterstock/Kom_Pornnarong
Start-ups and 5G
Several start-ups that are interested in 5th generation wireless networking were present at the symposium. ProCarement developed an app that helps patients manage chronic diseases. 'The app is installed and personalised on the patient's smartphone. It reminds the patient to measure vital signs, attend appointments and take medication. At the same time, the app offers lifestyle advice based on current medical guidelines. Our proprietary algorithms detect changes in the health status and direct the patient to the right person in the healthcare system. This reduces the number of unnecessary trips to physicians and hospital admission,' explained Sebastian Eckl, founder and managing director of ProCarement. inContAlert aims to help manage incontinence by collection data on bladder fullness with non-invasive sensor technology and transmitting it to a mobile device. In addition, the app calculates when the bladder needs to be emptied again. 'Thus, patients regain control over their bladder – which means improved quality of life,' said Jannik Lockl, co-founder and CEO of inContAlert.
Beyond 5G – 6G
'We expect new wireless technology to be introduced every ten years. Thus 6G will arrive around 2030,' predicted Dr habil. Ivan Ndip, Head of department at the Fraunhofer Institute for Reliability and Microintegration. 'The crucial differences,' he predicted, 'will be that 6G will offer 50 times higher data rates and one tenth of 5G latency.' 6G promises to provide healthcare services, despite staff shortages, thanks to robots and the internet of medical things – capabilities that are important for rural areas. According to Ndip, 'Sensors can measure vital signs and transmit data wireless to medical staff. Robots can hand out medication.' 6G bandwidth enables the large-scale connectivity between 6G and robots. Moreover, the very low latency and the high reliability will most likely allow real-time monitoring of patients.
Additionally, AI-based algorithms might lead to enhanced diagnostics and therapies. At this point however, that's still pie in the sky because there is no 6G hardware, and 6G signals might be blocked by things, people and rain.
A propos people: In addition to the technical challenges which need to be overcome on the road to 6G, the 'people' factor might play a vital role in 6G adoption. What has to happen for patients and clinicians to accept 6G? Hamm is convinced that the German Minister for Health, Jens Spahn, was right when he said 'Digital Health has to be fun, otherwise it won't be used'. So far the fun factor with 5G has been low – as has been the adoption rate.