UK to share healthcare expertise internationally
Report: Mark Nicholls
The United Kingdom's National Health Service (NHS) has launched NHS Global, a new branch of the organisation that aims to generate additional funding from other countries and organisations, and to explore new international opportunities to export its knowledge, skills, products, ground-breaking treatments, cutting edge research and other services.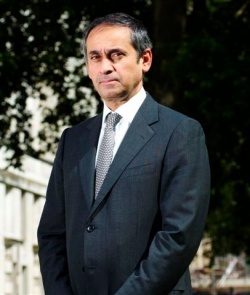 Unveiled in March by Health Secretary Andy Burnham, the initiative comes against a backdrop of growing financial constraints within the NHS.
The Department of Health (DoH) has begun preliminary work with NHS organisations to bring products to the world market and is now seeking further ideas to be submitted for consideration by NHS Global, with NHS staff invited to come forward with their own suggestions.
NHS Chief Executive Sir David Nicholson said with growing international demand for knowledge, skills and services developed in the NHS, a more systematic approach to supporting NHS organisations in making the most of such opportunities was needed and NHS Global would help facilitate that.
Last October's success of the NHS Innovation Expo -- which brought together healthcare providers to showcase innovation, spread best practice and generate business on a domestic and international level -- helped illustrate the global demand for NHS services from governments and organisations abroad and generated transactions of more than £27 million (€30m).
NHS Global, to be launched in the summer, will help NHS organisations replicate this success more widely in an international healthcare marketplace, worth around $4 trillion (€3 trillion).
While it will be up to the individual organisations to decide how NHS staff become involved in NHS Global, the DoH hopes that organisations undertaking international activity will be able to offer their staff opportunities for development and insights into how other healthcare systems operate.
Given the lack of management skills in many developing countries, opportunities may arise for more NHS managers to become involved in overseas work. Some NHS organisations are already sharing their expertise internationally, such as the NHS Institute and Moorfields Eye Hospital.
'There is significant international demand for NHS products and knowledge and it is important that NHS organisations are supported in making the most of this opportunity,' said Professor Lord Darzi, UK Global Health and Life Sciences Ambassador. 'Proper management of our knowledge and skills will create additional income to invest back into frontline services. At the same time, greater participation in the Global Health agenda will provide greater security to the UK and the rest of the world in confronting international health security challenges, such as pandemic flu.'
The NHS has gained a reputation for technologies and innovations to combat healthcare associated infections (HCAIs) and this is an area where there is demand from other health systems.
The NHS Institute for Innovation and Improvement's Productive Series – which sets out steps to improve quality of care and deliver more productive services by focusing on supporting NHS staff to drive change - and NHS Direct Software are also seen as opportunities to generate international business.
The UK government says NHS Global will be able to remove barriers, provide technical and commercial support and help the NHS to get best value for the knowledge and skills it holds in a way that does not affect frontline services at home, by acting as a central contact point for countries interested in doing business with the NHS. It will support the NHS in a range of business functions, including: identifying commercial opportunities; generating demand in international markets; brokering partnerships between NHS organisations and overseas customers; identifying potential legal issues and risks; providing advice on Intellectual Property management; and marketing and communications.