Article • Pattern regocnition
Turning a CT scan into a virtual biopsy
Cloud-based mining of medical images will transform clinical radiology the same way that online access to genetic data has transformed clinical biology, according to Frederik Brag, the CEO of Median Technologies.
Report: John Brosky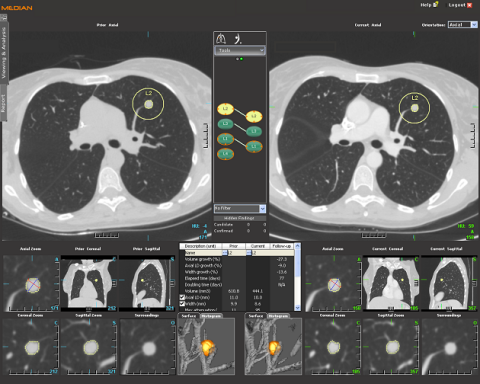 Microsoft Corporation believes he is right and this summer created a joint initiative with Median to integrate its IBIOPSY software into that company's Azure cloud platform to provide clinicians with capabilities for analysing medical images for cancer diagnosis and treatment.
'Using Big Data analytics we can now do what we call decoding images, breaking them down to identify unique signatures or fingerprints that correspond to a specific kind of cancer,' Brag told European Hospital. 'It's like performing an imaging biopsy and this is especially powerful. A regular biopsy gives you partial information at best about a piece of tissue to be analysed.
'We can look at the whole image of an organ and any tumours. We can sequence the image, decode it and correlate our results to a biopsy report.'
Since 2002, Median has steadily improved its software algorithms for detecting, identifying and tracking changes in tumours. Over the past three years the company has emerged from its headquarters in Sophia-Antipolic, France, to become a leading provider of automated image analytics for pharmaceutical companies conducting clinical trials.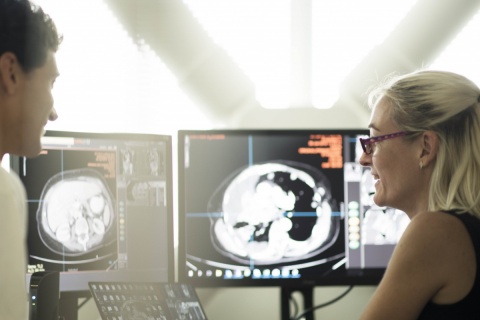 Medical imaging is the established standard of care in oncology and is used to determine if a new drug is having any impact on a patient. During the course of a clinical trial, a single patient will undergo up to eight imaging examinations to determine whether a lesion is stable, if it is continuing to grow, or if it is getting smaller.
He estimates imaging represents almost 15 percent of oncology clinical trial budgets, with each drug company spending up to €50 million per year for imaging interpretation and analysis, creating a global market valued at €1 billion annually.
Previously, a dedicated team of radiologists would gather the massive batch of images for each clinical trial and would manually read, interpret and report on the outcomes.
'They are selling radiology services at a premium to the drug companies,' said Brag. 'These central lab teams do not have the capacity for understanding exactly the type of tumour they are looking at, they are not equipped to do quantitative imaging and in 40 percent of the cases two radiologists will report two different assessments of how the same patient is responding to treatment.
'We use software to standardise the interpretation and make results reproducible, automatically detecting cancer lesions and measuring them in 3-D to get the full volume of a specific tumour and extract much more meaningful information that gives a pharma group a much better understanding of how a patient is responding to treatment,' he said.
Today, there is a new breed of technology moving into this space, driven by companies like Microsoft, as well as Google, Amazon and IBM. 'It's a combination of capabilities coming from different fields that are dramatically changing the landscape.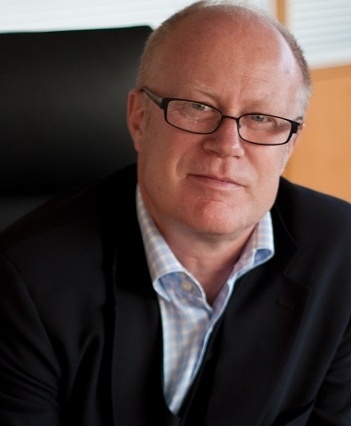 'There are faster processors today. We do billions of computations on one image and we can now index the data in a totally different way. Just two years ago it took us two weeks to do the analysis on just one patient. Today, we can do it in less than one minute. This means the analytics can be applied in a much wider space,' Brag pointed out.
Bernard Ourghanlian, Chief Technology Officer with Microsoft said, 'by taking advantage of the Microsoft Azure cloud platform, IBIOPSY will provide faster imaging and health data analysis and will accelerate the discovery and delivery of new biomarkers for cancer diagnosis and treatment monitoring.'
By identifying the unique visual characteristics of tumours, Ibiopsy is progressively extracting biomarkers of disease from medical images. 'This is at the core of the Microsoft-Median Technologies Precision Medicine Project,' Brag confirmed.
'Big Data computing and analytics will allow efficient processing and analysis of imaging biomarkers, which is essential for early detection of cancer and monitoring of new targeted cancer treatments. Our collaboration with Microsoft will allow us to deliver these solutions into routine clinical practice on a global scale on the Azure cloud computing platform.'