Trumpf distrubtes ViKY in the Middle East
Robotics and systems providing assistance during procedures harbor great potential for medical use.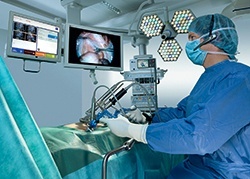 Therefore, Trumpf Medical Systems has expanded its product portfolio to include the assistance system ViKY. The manufacturer of medical technology wants to open the door to new options for increasing patient safety and using hospital resources more efficiently. Trumpf Medical Systems arranged a strategic alliance with ViKY's developing company Endocontrol. After successfully introducing ViKY as a new product in Trumpfs European product portfolio at MEDICA 2012, the companies now announced that Trumpf will also launch the assistance system in the Middle East and African market.
As a vendor of solution systems used to equip operating rooms and intensive care units, Trumpf is addressing surgeons directly with the ViKY assistance concept. ViKY provides support in general surgery, as well as urological and gynecological procedures. The system may be used either to guide and hold the endoscope during laparoscopic interventions or as a holding and positioning system for uterine manipulators. ViKY is comprised of a control system and a compact robotic unit that attaches to the operating table's side rail with an articulated arm. With the appropriate adapters, ViKY can interface with all standard endoscopic optical systems and cameras and with uterine manipulators, regardless of the make. Instruments can be guided, positioned and held during the operation in response to commands issued by voice or with a food control pedal. The system can memorize different positioning configurations and recreate them later on command. Above and beyond that, the system can be configured for up to fifty individual profiles.