Carestream Health Sponsors Industry Discussion On Cloud Computing in Italy
As part of the recent annual Heathcare Summit organised by Sole 24 ORE in Milan, Italy, Carestream Health sponsored a round table discussion on cloud computing. The Summit is an established event in Italy and is attended by Government and regional officials and companies contracted by the Italian Ministry of Health. Carestream is one of the world's leading providers of cloud infrastructure, currently managing 2 Petabytes of data in 10 data centres across the world.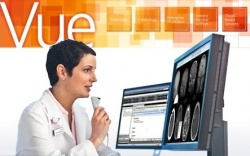 The round table discussion brought together several eminent industry speakers to share experience and discuss the clinical and financial benefits of using cloud services together with privacy and data protection issues. In summary:
Paolo Balboni, Cloud Computing Sector Director and Manager of External Affairs at the Italian Privacy Institute
"The current regulatory system is formal and not very clear, acting as a barrier to the use of cloud solutions. However, we look forward with optimism as the main regulations and sector policies are being substantially reformed. In terms of reform, before undertaking data migration it is advisable to carry out assessments to clearly determine, as a minimum:
Type of data to be migrated and its regulatory restrictions
Responsibilities for the supply and completion of the cloud services. It is necessary to follow these formalities to distinguish between the owner and the person responsible for the treatment and it is necessary to focus on a clear identification of duties and responsibilities of those participating in the process
Circulation of data inside the cloud and guarantee of the permanence of health data in the Economic European Room
Control and supervision of cloud services during the supply period, including compliance with applicable norms
Inter-operability, data portability and transfer back are necessary conditions to prevent lock-in with a cloud service provider and allow the data to be moved to another provided
It is therefore necessary to tailor contracts with a Privacy Level Agreement. This tells the cloud service provider what level of data protection is required by the healthcare provider, for example: coding, data permanence in the Economic European Room, strong management of identities, prevention of access and unauthorised data handling."
Carlo Faletti, Director of the Department of Intercompany Radiology CTO Turin and President of SIRM
"The radiology world has changed significantly in recent years. It has become an integrated digital reality, from image capture to the visualisation and distribution of images to users, health workers and patients themselves. Recent Italian Department of Health guidelines confirm this and we are rapidly moving towards a world in which ease of delivery, co-operation and sharing are the watch words.
The decision to use new technology to file and manage clinical and company data gives the radiologist permanent and wider access to information, when and wherever it is needed. The cloud also provides tools and improved workflow to radiologists, allows clinical and medical experts to obtain consultation on diagnosis, treatment and second opinions and allows reporting at sub-specialty level. All of this gives us more time and resources to assist patients, so it helps to improve the quality of health itself."

Giovanni Hoz, Director of Information Systems, Agostino Gemelli University Hospital, Rome
"Agostino Gemelli was the first hospital in Italy to have seized the opportunities offered by cloud computing in both administrative and clinical areas. We carry out more than 200,000 radiology exams every year with more than 180,000 images reported. Data management was proving an issue, drawing attention away for medical health activities and making it difficult to follow technological progress in this sector.
We chose Carestream's Vue Cloud solution not only to reduce the costs of general system management but also to increase the quality of performance. The cloud model lets us manage our significant data volumes in a secure way and in full compliance with current data privacy laws. We now have a real response to business continuity and disaster recovery and we have access to the latest cutting edge technology that allows us to expand in accordance with changes in radiology workload. We estimate that the cloud model will lead to a higher service level, to a simplification of management and to a significant reduction in image management costs leading to an estimate 25% saving within 5 years of using the service."

For more information on Carestream's healthcare IT solutions please see here.
More on the subject:
More on companies: