Trinity Biotech hits high mark for cardiac test
Ahead of regulatory approval that is expected before the end of the year, Trinity Biotech chose Medica to present the novel point-of-care (POC) analyzer Meritas with the Troponin I (TnI) that are expected to disrupt a €700 million market.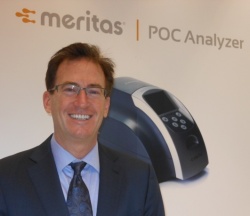 The gold standard for deciding whether patients with chest pain need treatment or can be sent home, POC TnI tests are notoriously variable, often returning false negative results. This means there is currently a one-in-three chance a patient will be sent home when they should have received treatment for myocardial infarction (MI).
Preliminary clinical evidence shows highly impressive sensitivity and reproducibility from the Meritas platform for TnI and that it outperforms the existing market leaders' assays.
The frustration of emergency department clinicians with the high variability in current tests led to a revision of MI guidelines in 2012 by the American College of Cardiology (ACC), European Society of Cardiology (ESC) and American Heart Association (AHA). The cardiologist recommended only using a test with a one-in-10 variability.
"They set the bar very high, at a whole new level, because at the point-of-care there is nothing in the world today that meets this criterion," said Tom Parenteau, vice president for Cardiovascular products at Trinity. He added that 80% of laboratory based systems don't meet this standard.
"We have met this new standard," he said.
Armed with the new technology, Parenteau is leading Trinity's charge into the new territory of cardiac testing. The company traditionally has been a leader in infectious disease, hemoglobin analysis and diabetes.
After completing the trial in Sweden that will, it is hoped, lead to CE mark approval, he said the company will immediately start up five-country evaluation study to track patient outcomes, and significantly, to demonstrate the economic benefits of a high accurate POC test for cardiac patients. If it proves as effective as expected, he said, hospitals will only be treat only patients who are truly ill, reducing the use of much-needed beds and reducing the unnecessary testing of otherwise healthy patients.
"A key area of financial liability for hospitals today is the high number of false negatives for troponin," he said. In other words, if patients have an adverse cardiac event after being sent home by the emergency staff due to a faulty analysis of TnI, the family is more likely to call a lawyer than a doctor.

Trinity is also gearing up for a clinical trial in the United States that Parenteau said will be triggered by the CE mark approval. Early data for the Meritas TnI assay has attracted an enthusiastic support from key opinion leaders. The principal investigator for he trial will be Fred Apple, M.D., from the Hennepin County Medical Center in Minneapolis, Minnesota. The company also prominently features encouraging comments made by Frank Peacock, M.D., from the Cleveland Clinic in Cleveland, Ohio.
Prior to arriving at Medica, Parenteau said he had identified distributors for Meritas in 80% of the markets outside the U.S.
"What has been a very nice surprise here are the very positive discussions that have helped us fill the gaps for geographic distribution, so that now we have just about everything covered," he said.