Heart failure
Remote monitoring in Lorraine reduces hospital re-admissions
About 500,000 people in France people suffer heart failure (HF). In Europe the figure is six million and the same in the USA.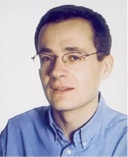 While pharmaceutical innovations such as ACE inhibitors, beta blockers and mineralocorticoid receptor antagonists help to decrease mortality in HF patients with reduced ejection fraction, much needs to be done, says Professor Patrick Rossignol, nephrologist and deputy physician at the Inserm Centre d'Investigation Clinique Plurithématique Pierre Drouin (CIC-P) in Nancy, France, because the prognosis remains unfavourable.
The professor is particularly concerned about the high number of hospital re-admissions. 'About 20 percent of all patients with heart failure are re-admitted to a hospital within a month of the initial event and roughly one third of the patients die within a year.' Poor follow-up, he emphasises, is to blame for this dire situation.
Case in point: One year after their discharge many patients receive the same medication without dose optimisation as upon their discharge. While international guidelines recommend disease management programmes (DMP) for HF patients, Patrick Rossignol points out, many patients are either not included in such a programme or it does not follow harmonised standards.
In the Lorraine region, the 'réseau lorrain des insuffisants cardiaques' (ICALOR – Lorraine network for cardiac insufficiency patients) was introduced in 2006, a DMP unique in France because it covers an entire region and currently includes 3,000 patients. Each patient is closely monitored at home by nurses, on top of the usual out-patient follow-up by physicians. Results are collected in a patient record that can be accessed by the patient and hospital-based and/or office-based physicians.
The programme results are very encouraging: the implementation of the ICALOR programme was associated with a reduction in HF hospitalisations in Lorraine, estimated by an absolute difference between the number of hospitalisations observed in the Lorraine region, and than expected had it been similar to that observed in the whole country of -7.19% in 2010. The estimated annual hospital cost saved by ICALOR was €1,927,648 in 2010. (REF). Nevertheless, Professor Rossignol stresses, much remains to be done to ensure that the course of HF is less dramatic: 'Hospital re-admission is a severe event for the heart failure patient because at that time cardiac function is already seriously compromised. The alarm signs indicating deterioration of the pump function must be recognised earlier.'
Together with Professor Faïez Zannad, who heads the Heart Failure and Hypertension Unit in the Department of Cardiology, Nancy University Hospital, Patrick Rossignol developed a new procedure for telemedical monitoring of heart failure patients. All the patients need do is introduce a drop of blood every day into a box that assesses a set of renal and cardiac biomarkers. The data are encrypted and forwarded to a telemedical monitoring centre. When the values show signs of deterioration, the primary physician is informed who can initiate a therapy adjustment, with the help of a dedicated decision support system. 'The extremely simple procedure for patients is based on the same principle as blood sugar monitoring in diabetics. It's a response to the problem of frequent re-hospitalisation of cardiac insufficiency patients.'
Currently being piloted, the first prototypes of the device are expected to become available later this year. Application will then be made for the CE mark.
Next year, a clinical study with several hundred patients throughout is planned and Prof. Rossignol is confident this may prove that the device helps reduce follow-up complications in HF patients. The project, which was awarded funding of €1.9 million from the Lorraine region and the European Regional Development Fund (ERDF), is carried out by a consortium headed by Cardiorenal Diagnostics, a company founded by Professors Rossignol and Zannad with Gerard Houis.
Profile:
Nephrologist Patrick Rossignol MD PhD is Professor of Therapeutics at the University of Lorraine, France. Since 2007, he has been deputy physician at Nancy University Hospital's Inserm Clinical Investigation Centre, headed by Professor Faïez Zannad, and an Inserm UMR_S1116 researcher, as well as being a consultant at the University Hospital Heart Failure and Hypertension Unit and haemodialysis clinics. The professor's research priorities are clinical trials and biomarker studies in the context of heart failure, chronic renal insufficiency, hypertension, and vascular diseases such as abdominal aortic aneurysms.