Article • Medical waste management
Time to "Green Up" for EU Ministries of Health
COVID-19 has rocked health care systems, revealing vulnerabilities in our supply chain, piling up unprecedented costs, and creating an alarming amount of medical waste. The health care sector was already a major source of pollution.
Author: Daniel J. Vukelich, Esq. President Association of Medical Device Reprocessors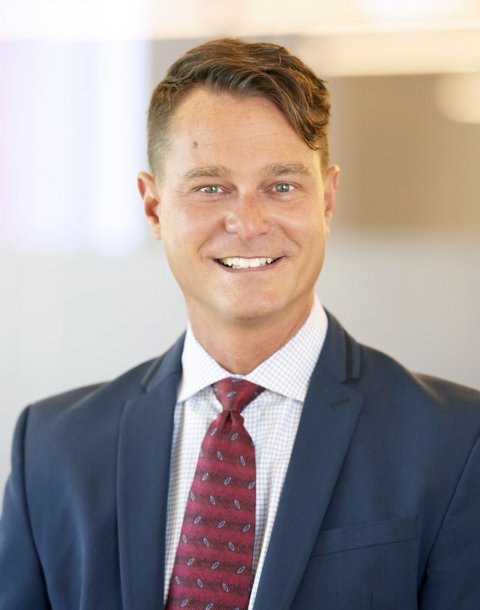 The World Health Organization points to the burning and incineration of health care waste as a source of dioxins, furans, and particulate matter emissions that pollute our air.1 Additionally, health care's contribution to Greenhouse gas emissions has been studied and linked to acid rain, photochemical smog, and respiratory disease.These studies suggest health care itself is making people sicker.2
The European Commission and others are looking at the future economy post COVID, exemplified by the proposed "Green Deal." Though released before the COVID-19 pandemic, this initiative has recently taken on greater significance, with many policy-makers now calling for a green and ambitious recovery from the economic crisis caused by COVID-19 outbreak – a call echoed by health professionals across the world. More than 40 million health professionals from 90 different countries have called upon the G20 leaders for a healthy recovery.
The Green Deal impacts the health care sector in Europe in many ways; the policies, regulations, and strategies that will be laid out in the coming months and years may offer unprecedented opportunities for hospitals and health systems in Europe to achieve their sustainability goals. The principle of "do no harm" is a key component of the Deal, and resonates strongly with health care workers everywhere. This principle is closely aligned with the Strategic Vision for Procurement for European Health care proposed by Health Care Without Harm (HCWH), a leading non-profit that advocates for environmental improvements in the health care sector worldwide. The Best Practices guide calls for a European health sector that "not only protects the communities it serves, but also the environment - itself a critical component of human health."
A closer look at what is in medical waste
HCWH estimates that "if the global health care sector were a country, it would be the fifth-largest greenhouse gas emitter on the planet."3 Their report notes that the "lion's share of emissions – 71% – are primarily derived from the health care supply chain through the production, transport, and disposal of goods and services," including "medical devices, hospital equipment, and instruments." These findings are premised and corroborated in peer-reviewed publications.4 HCWH calls on Europe to "decarbonize the health care supply chain. Health ministries, hospitals, and health systems should set criteria for low-carbon or zero emissions procurement; while suppliers and manufacturers should decarbonize their operations and products."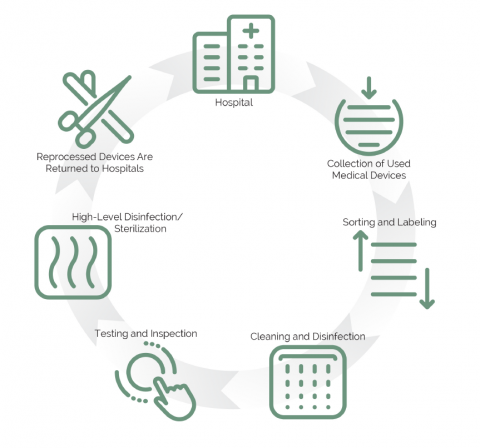 Historically, most items in hospitals were designated as reusable and were reprocessed and reused. A disposable culture has emerged in hospitals and surgical centers in recent decades, predicated on the false belief that many medical instruments can only be used once, or hospitals are at risk contaminating patients with infections. The shift to disposable products has contributed to a mountain of waste generated by hospitals.
In health care, solutions already exist that reduce costs, make hospitals more resilient, and reduce waste and adverse environmental impacts. Now is the time for hospitals and governments to seize those opportunities to address the immediate financial toss, to offset the tremendous amount of medical waste, and build a more resilient health care supply chain so front line workers are never left ill-prepared with supplies again.
One solution? Remanufacturing of single-use medical devices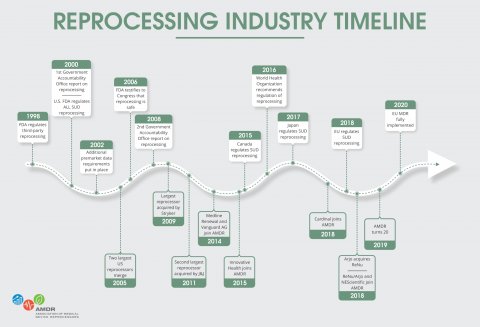 EU Ministries have a choice: remanufacture perfectly good devices for safe reuse, or raise carbon emissions and costs through a "use once and trash" mentality.
According to Practice Greenhealth, "single-use medical devices make up a significant amount of the operating room supply budget and costly regulated medical waste generated by operating rooms every day. Working with a third-party reprocessor to safely collect and purchase the remanufactured devices is one of the biggest opportunities for cost savings and waste reduction in the operating room." EU Ministries of Health have a remarkable opportunity to lower costs and reduce waste as the EU MDR and Common Specifications go into effect May 2021.
Currently, devices labeled by the original manufacturer for single-use or as disposable are either used once and discarded or cleaned and reused by the hospital. For example, many single-use orthopedic clamps, pins, plates, screws come non-sterile and must be processed by the hospitals, despite being labeled for "single patient use." This practice would end forcing hospitals to throw away thousands of Euros worth of metal orthopedic instruments after every case. More importantly, an entire industry has emerged whereby medical devices companies, some subsidiaries of larger companies like Arjo, Cardinal, Medline, and Stryker, remanufacture single-use devices (SUDs) as part of their sustainability offers. Other companies are independent of original manufacturers, but all meet the same standards of obtaining a CE mark.
In the United States, Canada, the United Kingdom and Australia, the practice is not only regulated, but it is thriving. Regulated commercial reprocessing in the US and Canada doubled every year for 20 years, saving health care systems nearly €400,000,000 in 2018 alone.
Until now there has not been an EU-wide policy on the reuse of SUDs. The new EU MDR seeks to ensure that reprocessed or remanufactured devices meet standards necessary to assure providers and patients the practice is safe. The regulation requires that commercial remanufacturers meet the same standards for safety and efficacy as makers of original equipment. Also central to the regulation is the requirement that all EU hospitals discontinue the practice of in-house SUD reuse by the May 2021 deadline or meet the CS requirements of the MDR. The decision is similar to what happened in the US 20 years ago when the FDA saw a need to remove SUD reuse from hospitals. The rigorous controls placed on SUD reuse required highly specialized reverse engineering, cleaning and performance testing – skills provided by regulated, professional reprocessing companies.
Under the MDR, EU hospitals can continue to reprocess in -house, but such reprocessing must meet the strict standards set forth by the CS. Members States may "opt-in" to allowing regulated, professional firms working outside of hospitals, meeting full medical device manufacturer requirements to do so. But each EU member must affirmatively agree to one or both options, otherwise, SUD reprocessing or remanufacturing becomes illegal, and an important path toward greener hospitals is eliminated.
Urgent action needed in EU member states
Opting into Article 17 of the EU MDR promotes safety, lowers costs, reduces environmental impact, and creates a more resilient supply chain. But so far, National Ministries of Health have been slow to act. AMDR and EU environmental groups such as Health Care Without Harm are urging members to "opt-in," meaning, to elect to allow reprocessed or remanufactured SUDs that are CE marked – meaning they conform to the EU MDR's requirements and are as safe and effective as original equipment. The UK adopted language allowing such products in 2016. Belgium and the Netherlands have already taken steps to do so and have reported such to the Commission. Numerous other Member States, including Germany, Ireland, Portugal, Slovenia, and Sweden, are considering action.
Countries that opt-in will promote competition and drive down costs. Allowing CE marked remanufacturing of SUDs provides governments a useful tool to combat growing medical device costs as remanufactured devices can be, on average, 30 percent less expensive than buying new. Medical device manufacturers have also been known to lower their prices for new equipment when faced with economic competition from reprocessors.
Ministries of health should act immediately to join the growing, green remanufacturing movement
Single-use medical device remanufacturing builds a circular health care economy, creating jobs in the EU and keeping financial resources at home, within health institutions, rather than spent on unnecessary supplies from a global supply chain. EU member states, typically known for being more environmentally proactive, now lag behind the U.S. and Canada in remanufacturing SUDs. AMDR urges all EU Members States to act immediately.
References