Organ Transplantion
Three artificial hearts to be implanted
French authorities have given the green light for continuing the clinical trial for the first fully implantable mechanical heart after a four-month review of the device and the causes of death of the first patient to receive the prosthesis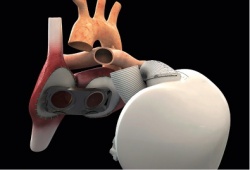 The manufacturer, Carmat, can now continue its recruitment of three other patients authorised for this first trial to test device safety and feasibility. All implantations will be performed in France. Congratulating participants on the quality of their work in collecting and analising the data from this first implantation, Carmat CEO Marcello Conviti said in a company announcement that 'complementary measures' have been put in place to continue the trial in order to assure the best conditions for safety.
In an e-mail response to European Hospital, the company said the measures 'concern notably manufacturing processes or protocols which the company does not wish to discuss.' The company also said that it will not communicate any further information until the full trial for safety has been completed.
The first artificial heart that was implanted
The first patient to receive a totally implantable artificial heart died 75 days after the procedure. The cause of death on 2 March 2014 was not disclosed in a short announcement made by the Hôpital Georges-Pompidou in Paris. Christian Latremouille MD, at the Hôpital Georges-Pompidou, noted that a survival of 74 days for the first patient with end-stage heart failure widely exceeded the 30-day endpoint for the safety study. The 76-year-old patient was 'fully aware of the risks and by his confidence, his courage and his willingness has made a remarkable contribution to the efforts undertaken to combat a rapidly progressing disease,' the medical team stated. The heart was implanted on 18 December 2013, by the surgical team led by Dr Latremouille with the participation and guidance of the inventor of the device, Alain Carpentier MD.
The artificial heart adapts blood supply
This was the first time an artificial heart requiring no external pumps had been implanted. Only two wires exited the body at the abdomen, one to supply power and a second to monitor device performance. This is also the first artificial heart capable of adapting the blood supply according to a patient's activity, varying from three to nine litres per minute, rather than keeping to a constant supply. In an interview with the French weekly, Journal du Dimanche, Carpentier said the first patient's death 'is not linked to a complication of the patient, nor to the fundamental principles of this prosthesis.' He said the risk of thrombosis was limited, that the patient did not demonstrate any cerebral deficiency, and that an autopsy confirmed there was not the least bit of clotting in the device nor in the circulatory system. 'In this sense, the trial was a success,' he concluded.