Thin client products aim to `unleash the potential of scanner technologies´
The Visage Thin Client product range on show at the ECR provides a fully-integrated system with advanced tools for 2-D, 3-D, and 4-D image review and interpretation, post-processing, data management, and image distribution.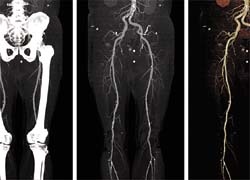 The thin client-enabled PACS solution produced by Visage Imaging (a subsidiary of Mercury Computer Systems Inc.) has new features for use in radiology, cardiology, neurology, oncology, surgery and other subspecialties. These include application-specific display and post-processing protocols, saving and sharing of annotations as well as post-processing results, volume analysis of lesions and structures in 3-D, improved automatic bone removal, sharing of roaming sessions, easy switching of layouts and viewers, etc.
The latest version of the Visage CS Cardiac Analysis is also on show. Assets: new tools and optimisations such as calcium scoring, improved reporting, and efficient manual editing, the company points out. 'This makes Visage Cardiac Analysis the only comprehensive and fully integrated cardiac analysis application on a thin-client-server platform. With Visage's CS client-server technology the image data as well as the applications within the Visage platform are not bound to specific workstations and become instantly accessible anywhere, anytime within the PACS workflow. The Visage Thin Client platform allows sharing data and applications across radiology and cardiology departments, and helps to unleash the true potential of the latest scanner technologies and diagnostic tools.'
The web and thin-client technologies make it easy to deploy this integrated solution across an entire hospital.