blood bank refrigerators
Thermo Fisher Scientific Earns First U.S. EPA ENERGY STAR Certification
Clinicians working across blood banking and transfusion applications can now reduce the environmental footprint of their operations by selecting certified energy-efficient refrigerators that have received a U.S. Environmental Protection Agency (EPA) ENERGY STAR label.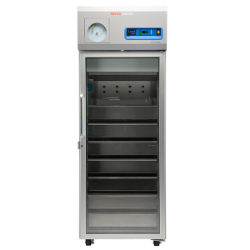 The Thermo Scientific TSX Series High-Performance Blood Bank Refrigerators have been recognized by the U.S. EPA as the first ENERGY STAR® certified laboratory-grade refrigerators currently available on the market due to their energy savings features. Introduced in December 2016, the ENERGY STAR specification sets standards for energy-efficient laboratory equipment used specifically for the cold storage of non-volatile reagents and biological specimens.
"In line with our mission to enable our customers to make the world healthier, cleaner and safer, we have an obligation to invest in ongoing innovation of sustainable solutions that will help customers reduce their environmental footprint," said Eric Roman, president of laboratory products, Thermo Fisher Scientific. "We are delighted to be recognized for our commitment to sustainability, and look forward to expanding the ENERGY STAR certification to our entire TSX product portfolio in the near future."
The high-performance blood bank refrigerators are powered by a unique V-drive technology designed to provide temperature uniformity to continually detect and adapt to user patterns, offering significant energy savings without compromising performance. With advanced insulation, the refrigerator offers exceptionally-quiet operation, enabling users to bring the units back into the lab from the hallway for added convenience.
Designed to meet strict guidelines established by the American Association of Blood Banks (AABB) for the storage of whole blood, the refrigerators operate at a factory pre-set temperature of 4°C and are FDA Class II certified. Additionally, the innovative refrigerants in the TSX Series have been approved by the EPA's Significant New Alternatives Policy (SNAP) program, which evaluates substitutes for ozone-depleting substances to reduce overall risk to human health and the environment.
For more information on TSX Series, please visit https://www.thermofisher.com/tsx
Source: press release Thermo Fisher Scientific
More on the subject:
More on companies: