The world's first wireless & radio controlled injector with Bluetooth technology
Launching its newest Accutron series injector, Medtron AG proudly reports that the injector's high levels of accuracy, efficacy, and safety result from fifteen years' experience in development, the intensive research of the expert team, their close follow-up of imaging modalities and, finally, their experience in addressing end-user input and needs.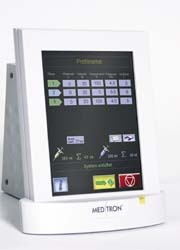 The company's new Accutron MR, for example, is the only totally wireless injector on today's market. Its batteries, which run the shielded motor, need only an overnight charge to provide regular operating power for several days. 'Wireless Bluetooth technology was chosen for its higher compatibility with MR field environment to allow direct control of all injection parameters and operation via the remote control,' Medtron adds. 'The same one page touch-screen controls the injection head. Using the exclusive ELS (Easy-Loading-Syringe), even night shift can benefit from this easy handling. Sticking to the latest MR imaging suites and protocols, the double head Accutron MR brings the widest scope of injection capacity up to 3-Tesla.'

Reporting on the development of its Accutron CT single head, Medtron explains that the aim has been to optimise the injection work-flow, cost effectiveness and patient comfort, whilst also presenting users with the same quality of standard contrast CT protocols.

Future developments
Examination times, shortened by IT and Computer Assisted Diagnostics (CAD), require a deeper integration and simplified management of contrast media injection for the imaging sequence, Medtron points out. To this end, along with many large imaging corporations, the company is involved in the CANopen project (already available for its double-head CT injector, the Injektron CT 2).

The company predicts its projects will result in the next generation of CIA425-approved injectors, which will communicate with and be fully controlled by imaging software, so that injection parameters can be automatically adapted to the image acquisition sequence.
Medtron will demonstrate the new Accutron range at this year's European Congress of Radiology.
Extension Expo A, # 16.
More on the subject:
More on companies: