The Virtual Autopsy Table
Karoline Laarmann reports
This is imaging with a 'wow'-effect: The Swedish Centre for Medical Image Science & Visualisation (CMIV) in cooperation with the Norrkoping Visualisation Centre has developed a 'Virtual Autopsy Table' that allows a unique look inside the human body and takes interaction with volumetric medical data to a new level.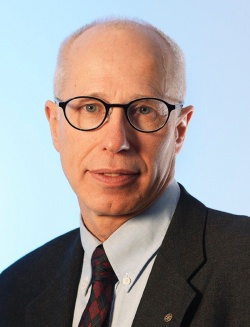 The table technology uses Dual Energy Computed Tomography and high resolution MRI, rendered and processed into 3-D-images to be shown on a 46' multi-touch glass screen. By moving and rotating the body hologram users can peel away layers of skin, muscle and bone with simple hand gestures – with no touching of the table-top. Thus, said Professor Anders Persson, director and senior researcher at CMIV, what began as a university research project may become tomorrow's way of image analysis in operating theatres or radiology departments.
'Absolutely,' responded Professor Anders Persson, when asked whether the new Virtual Autopsy Table developed at CMIV could do more than a 'CSI' kind of criminal investigation of the dead. 'The forensic aspect was just the origin of our national funded research project. The aim was to give the viewer a good and quick understanding of 3-D post-mortem anatomy and a possible cause of death. In this context we first had to develop a totally new software for Magnetic Resonance Tomography, called ' synthetic MRI', to scan dead bodies.*Normally, the MR scanners are calibrated to 37°C body temperature. If you scan a cold body of 5°C, you have a really noisy image. Now temperature doesn't matter anymore, because we scan in only one sequence that provides quantitative tissue data.
'In daily clinical routine this one sequence technology has enormous potential: a complete brain scan can be accurately performed at high resolution in less than five minutes. This saves a lot of time. I believe that this is the future of MRI, because you can scan more patients, you have less data and it is a quantitative method. It can also be installed directly in to the PACS and a plug in, for 'Synthetic MR' is now available for the SECTRA PACS.
'The first software packages are already implemented in several hospitals, for example in a forensic department in Bern, Switzerland, and soon will also be installed in Zürich. At the CMIV, located inside the University Hospital in Linköping, we already use this technology in daily clinical routine, for forensic cases and clinical examinations on living patients. So this is not a research tool that stands in the lab or autopsy room far away from the living.'
What is the key to this virtual table technology? 'First, the graphic interface opens up totally new ways of interacting with image data. You don't need great foreknowledge to understand how it works, because it's so intuitive. You don't even have to touch the screen -- there are cameras inside the table filming your hands and adapting their movements into movements on the 3-D-hologram, which means you can also have it in the operating theatre, for example, where you have to keep everything absolutely sterile. The special thing about the visualisation in the table is that we have full resolution, even in clip playing. Normally, you suffer shadings in this mode, but we have the same resolution as in 2-D-imaging.'
Educational and other uses
Prof. Persson pointed out that the virtual table is a good educational tool because a deeper understanding of the body functions and processes can be gained,. 'Up to ten students can gather around it and interact collaboratively and simultaneously. So it's also the ideal platform for strategic surgical planning. Interdisciplinary teams can discuss the complexity of a case and define the surgical strategy before placing the first cut.'
Volumetric medical data handling
The main tool is volume rendering, he explained. 'This means that you map a certain opacity and certain colour value to image data. For example, for CT we use the Hounsfield scale in which the radiodensity of distilled water at standard pressure and temperature (STP) is defined in Hounsfield units (HU). Each pixel of the reconstructed image is assigned an X-ray attenuation value, which is expressed in HU.
The system renders about 40 images per second independent of the size of the data set that loads from the scanner. It's so fast because it only moves the information from the hard drive to the graphic board that you want to look at and is mapped by the volume rendering algorithm. This means you can have a 100 GB data set and only move 100 MB.
Availability
'We're still in the prototype phase, but worldwide interest in the table is so huge that we are still quite overwhelmed. Since our first presentations in July, science centres and hospitals all over the globe have been calling us. So far we've built five tables and we're now preparing to implement a full PACS service into the table so that it's possible to retrieve images from the PACS server directly into the table. We're working closely with our partner Sectra Medical in this IT issues. We've also developed a plug-in for the synthetic MR. Let's hope that the first commercial tables will be ready for the RSNA 2010 in Chicago.'
* A related European Hospital report appeared in issue 2/2008. Title: 'Radiologists are set to gain new control of images. Current source: http://www.european-hospital.com/en/epapers/157