MEDICA 2007
A global festival of ingenuity
Germany - Once again MEDICA 2007 drew healthcare professionals- this year around 137,000 — to attend the congress and view the enormous number of medical products demonstrated by over 4,300 exhibitors.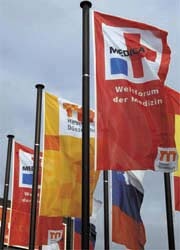 Medica Media, the Telemedicine Trade Forum and Theme Park, offered practise-oriented events and workshops to support cross-national knowledge and technology transfer embracing current topics such as the electronic health card and medical data networks.
Compact medical devices were another focus of interest for point of care use. These included smaller, portable ultrasound machines and next generation home testing systems that feature Bluetooth interfaces and online connectivity – for example to transmit a patient's blood-glucose levels automatically to an electronic database.
Devices to actively integrate the health-conscious patient in relation to prevention as well as quicker treatment were also shown. By quickly and simply measuring body parameters such as ECG or blood pressure and wirelessly transferring them to the treating physician, such units promise major advantages, especially for the long-distance surveillance of the chronically ill or for pain relief therapy.
The Medica Congress featured more than 150 seminars and lectures. Disease prevention, state-of-the-art diagnostics, emergency medicine and other important topics were discussed. At the 30th German Hospital Conference, which aimed to 'Shape the Future', 1,800 participants received perspectives from around 2,100 German clinics regarding tension between fee-per-case invoicing, increasingly fierce competition and the desire for the best possible treatment quality.
Next year Medica will celebrate its 40th year. It is already the world's biggest medical trade fair, yet ever-expands its space to so that global ingenuity can be encountered first hand by healthcare specialists.