Sponsored • POC
The precise emergency strength portable
Seattle-based medical ultrasound systems manufacturer SonoSite has aimed to take ultrasound to the point of care (POC) since it was owned by ATL. The parent company had gained a contract from the Defence Advanced Research Projects Agency (DARPA) to develop a lightweight ultrasound device for military use.
SonoSite took on the task and, from 1998, successfully strode into the civil sector with its compact, high performance portable systems for hospital use. Today the firm has 26 subsidiaries in its global sales network to serve over 100 countries. In 2011, SonoSite became part of Fuji Film Holding.
At Medica 2015, SonoSite presented the new ultrasound system iViz. Torsten Walther, a seasoned sales manager formerly with GE Healthcare, handles SonoSite's business in Germany. 'SonoSite,' he predicts, 'is well positioned to gain ground. We'll look closely at our users: where and how they use our systems and which additional applications are possible?' While in many other countries, ultrasound systems are already being used in a broad range of applications, he believes Germany lags behind, particularly in emergency medicine. Ultrasound systems are not standard equipment in every emergency department and therefore not necessarily available.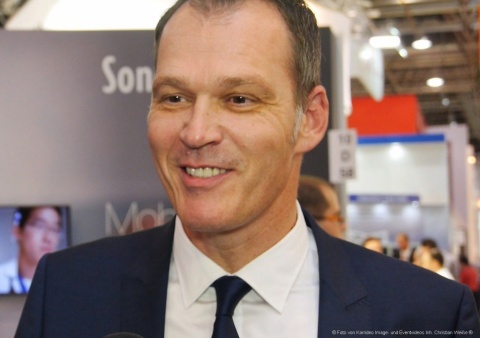 Walther is also emphatic about training: 'Across the Atlantic training is much more of an investment focus. That's a sensible approach, because many innovations organically evolve from the training ground.' In Germany, SonoSite is supporting emergency care training centres with hardware and personnel. iViz plays a major role in this. 'Participants in the training sessions get to know the system and we are sure they will positively remember the equipment and service quality.'
Walther counts on the junior physicians, because they are usually open for innovative ultrasound systems and their new possibilities, he says. 'We should keep in mind that a resident physician will move up the hospital career ladder, or into private practice – positions where he/she will make investment decisions.' SonoSite can already draw on customers who are very willing to share their positive experience.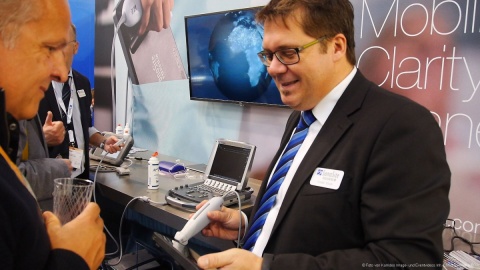 Brian Leck, Vice President & General Manager of Global Direct Sales, explains about the international market 'Every sale, every process, every product is different.' Nevertheless, it is crucial to take into account cultural and regulatory features. 'As long as you understand which part is universal, you will be successful in every market,' he emphasises. However, the 'basics' need adaptation for each country: 'I like challenges. 'We have to develop a structure that works – for our customers and the company. Flexibility is our strength. We do things in weeks instead of month or years.' As SonoSite's flagship product, the iViz expands the portable US portfolio. Volker Keller, Senior Marketing Manager in Germany, is positive that his product is a top performer. He underscores the particularly high degree of data security iViz offers.
Unlike a regular tablet, which is equipped with an app, the iViz is a proprietary medical-grade system that is fully integrated and fully protected against external access and internal system crashes. The large transducer port enables high quality images to be transmitted quickly.
The iViz is also well suited to orthopaedic and sports medicine, in which physicians look for ultrasound machines that offer good quality images combined with speed and ease of use, more than having a wide range of functions, they explain.
The system is 'plug and play' due to pre-defined settings, and it boots up within 20 seconds, so an image can be taken within a minute. Keller adds: in line with SonoSite's roots, the system also complies with military requirements regarding application safety and data security.
Meet SonoSite (Fujifilm Europe GmbH) at ECR 2016 at Expo X3, 209 (lower level).
More on the subject:
More on companies: