The Olympus Medical Training Centre
At the Olympus Medical Training Centre (OMTC), sited at the successful Olympus Winter & Ibe (OWI) subsidiary in Hamburg, the firm's investment of three million euros has resulted in a centre containing a full range of medical and surgical equipment for comprehensive operating theatre set-ups.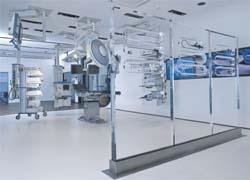 Inevitably, it is now attracting surgeons and theatre teams from around the globe to hone up on minimally invasive surgery (MIS). The OWI supports doctors worldwide with premium-grade endoscopic systems for minimally invasive surgery and is the global market leader in, among other areas, the important flexible endoscopy segment. This was reason enough for the Japanese parent company to integrate the forward-looking training centre within the Hamburg-based subsidiary.

Four training rooms, two seminar areas and a 120-seat auditorium where guests can participate in workshops and symposiums are spread over 1,000m2 of floor space.

The Olympus Advanced ENDOALPHA operating theatre integrates all necessary medical equipment and peripheral systems for control and communication.
Additional areas are available in which to train service personnel and provide training for instruments preparation.

The OMTC also further strengthens Olympus Europa Holding GmbH research, development and production capabilities. In medical technology, a currently booming market, over 650 people are employed in this sector in Hamburg alone, 100 working in R&D. In the past 18 months, 100 new employees were hired, and the demand for further highly-qualified staff remains very high, the firm reports.
More on the subject:
More on companies: