Data Management
The clinical collaboration platform
'Customers tell us vendor neutral archiving is a great way to store their images, but they ask what good it is unless they can then access those images where and when they want for planning clinical pathways, or in consultancy,' explained Christine Kao, Marketing Manager for Global Healthcare IT at Carestream.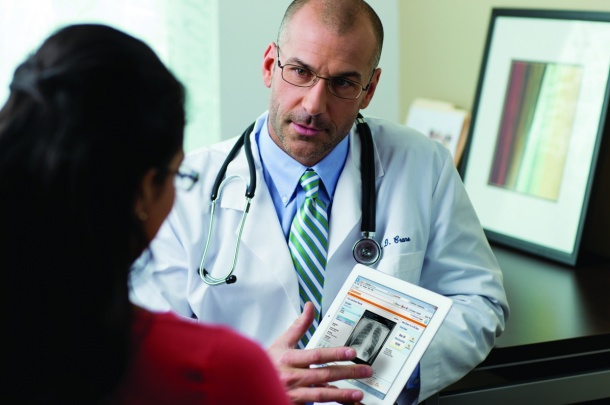 During RSNA 2014, Carestream showed it could push vendor neutral archiving (VNA) beyond data warehousing by launching its Clinical Collaboration Platform, reported to be better at gathering, managing and sharing clinical data. 'It starts by giving a broader capability to embrace data that is often scattered across a healthcare enterprise, some of it perhaps sitting in a cloud, sometimes just sitting in a camera in a clinic. There are videos from surgery, slides from pathology, digitised ECGs and photos taken by a dermatologist. All of this needs to be captured,' Kao explained.
The Clinical Collaboration Platform employs Carestream's intelligent Vue Archive to archive and exchange clinical content in DICOM, but also goes beyond the traditional capabilities offered by a VNA in accepting non-DICOM formats. Files are managed in their native format without conversion. 'We don't care where a file came from, and the platform can accept any file,' said Kao. 'Once it is captured and tagged with meta-data, it can then be share with multiple collaborators through a web-based tool that can be loaded onto any web-enabled device.'
After capturing and archiving patient data, the Clinical Collaboration Platform offers two further modules for enterprises to manage and distribute the data. Again without reinventing an organisation's practices, Carestream can embed the zero-footprint Carestream's Vue Motion media viewer into an existing electronic medical record (EMR) to maximise the ability for physicians to collaborate.
The Clinical Collaboration Platform is also workflow neutral, Kao said. 'A doctor continues to see patients as always; he takes photos as he always has and with the same equipment. What Carestream brings is a way to help manage that data while seamlessly integrating with an existing IT ecosystem and clinical workflow.'
Cooperative collecting of patient data helps break down walls between ancillary departments, sites and networks to provide physicians with a single view of critical patient records.
Embedding Carestream's Vue Motion zero-footprint viewer into an organisation's EMR can maximise the ability for physicians to collaborate. Physicians can conveniently access 3-D/MPR images, interactive reports and video streaming from their mobile devices or workstations.
In terms of healthcare departments maintaining their autonomy while sharing a common workflow, Carestream demonstrated its 'data ingestion workflow' via mobile devices as part of a work-in-progress linked to this platform. The company also demonstrated added native reporting capabilities to capture clinical notes as a part of this approach.
'Equipping clinicians and patients with a new generation of clinical content capture and review workflow tools delivers a more holistic view of the patient's condition and can lead to better treatment decisions,' Ludovic d'Aprea, General Manager for Global Healthcare Information Solutions at Carestream, pointed out
More on the subject:
More on companies: