The Apollo - this system was designed for all
Draeger reports that the Apollo includes an advanced ventilation capability that provides ICU quality ventilation in the operating theatre (OT), as well as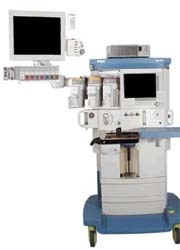 Draeger reports that the Apollo includes an advanced ventilation capability that provides ICU quality ventilation in the operating theatre (OT), as well as
- Spontaneous breathing support
- Electrically powered piston ventilator requiring no drive gas (unlike bellows ventilators)
- Enhanced monitoring capability
- Easy use and movement, with a central foot break to lock in place
- A choice of re-usable or consumable accessories, sensors for sterilisation or non-sterilisation, two or three mounted vaporizers
- Infinity patient monitoring system and peri-anesthesia information management system can be integrated
- Infinity's Pick and Go system enables monitoring during patient transportation
- Intelligent docking stations and clean cabling system to minimize transition times and maintain monitoring
The new Infinity Omega Solution has a two-screen system to enable simultaneous viewing of patient monitoring and clinical data. Also included is an Infinity Delta patient monitor with the Infinity Docking Station and a 17" touch screen smart display. Draeger points out that the new Infinity Kappa XLT patient monitor is the first split-screen monitor suited for the operating theatre (OT). The intuitive 17" touch screen provides expanded monitoring, arranged according to clinical context on one section of the screen, while real-time vital signs and trending are displayed on the other (there are no compromising pop-ups and no interruption of vital signs monitoring, Draeger adds).
On the large, configurable high-res TFT colour screen, the virtual flow tubes allow an exact dosing of distinct gases, combined with the safety and reliability of mechanical flow controls and a backup total flow tube. 'Due to electronic gas-flow measurement, the export of fresh gas data to an information system allows monitoring of gas consumption. This supports cost reduction as the use of low-flow anesthesia is promoted.'
In addition, incorporation of the Innovian Anesthesia data management solution allows automated anaesthesia record keeping.
The E-Vent plus servo controlled, high-speed piston ventilator has a very short response time. In Pressure Mode, Apollo has several features of particular benefit for paediatric or critical-care patients, Draeger adds. 'Decelerating flow control and optimum flow in the face of inspiratory resistance add up to critical-care-quality ventilation. This eliminates the need for a separate ICU ventilator in the OT and sets a new ventilation standard. In synchronized Volume Mode, Apollo offers benefits such as an adjustable flow trigger that reduces the patient's respiratory work and adjustable PEEP. With E-Vent plus, you can switch smoothly from controlled to spontaneous respiration. In addition, Apollo is available with Pressure Support, an assisted spontaneous respiratory mode which allows the patient to breathe spontaneously for extended periods by reducing the work of breathing.'