The 40th International Congress of Intensive Care Medicine
Held at La Defense in January, the International Congress of Intensive Care Medicine, sponsored by Société de Réanimation de Langue Française (SRLF) – the French Society for Intensive Care – is, with more than 3,500 participants, one of the major intensive care meetings to take place in 2012, Jane Mac Dougall reports.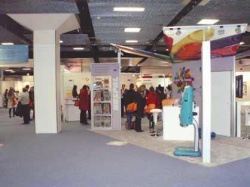 The SRLF is undergoing major organisational changes, including a new website (www.srlf. org) the publicationof the English language publication Annals of Intensive Care, available in open access, and setting up a trials group. These measures aim to improve communication and thereby, shared experience between French speaking intensivists and their international colleagues.
For its 40th anniversary, the SRLF chose the theme of The future of intensive care and the format of 2012 congress reflected this, allocating a major part of the meeting to the discussion of research and innovative ICU techniques. During the session chaired by Professors Duget and Payen de la Garanderie, The Future of Intensive Care, the first presentation, by Professor Jean-Louis Vincent (Brussels), discussed the role of telemedicine in the ICU.
One fundamental problem faced by intensive care medicine is the increasing demand for its services and a decreasing number of doctors to provide these. Critical care teams are expected to work not just within their specialised unit, but wherever intensive acute techniques are required e.g. in the emergency department, or at the scene of an accident. Figures from the USA show that, for the whole country, there are fewer than 6,000 intensivists in active practice and only 15% of ICUs have a dedicated intensivist, whilst in another 30% there is an intensivist available. Professor Vincent said that, while the situation is not quite as bad in Europe, teams are short-staffed, work long hours and are therefore often tired. As we all know, tiredness is not conducive to good clinical decisionmaking. Therefore, telemedicine is an option widely embraced by ICU teams in the USA.
With electronic transfer of patient data, images and biochemical results, already in place between departments within the same hospital it is not too great a stretch of the imagination to see how these could be transferred to the intensivist's PC when at home, or to a smart phone when out and about. Alternatively, any other specialist consultation e.g. obstetrician, cardiologist etc. could take place at-a-distance via good video and telephone links. In the USA, this system is in place in many ICUs. Telemedicine offers a means of sharing intensivist coverage over more ICU beds. A command centre based on a team of one physician and four nurses can oversee the care of up to 75 patients in at-distance ICUs, while the actual ICUs may be staffed with physicians and nurses providing direct care to patients, but not necessarily with intensivists.
Another possibility from the use of telemedicine that the US is exploiting is the use of foreign specialists in countries in a different time zone, for example in India, to ensure 24-hour cover, which is cost effective. Studies from the USA have been published showing costsavings from using telemedicine in intensive care with no increased risk to patient morbidity and mortality. While Professor Vincent was enthusiastic about the advantages of telemedicine, he agreed with many delegates who had serious misgivings at the thought of critically ill patients not having the 'expert' presence where perhaps it is needed most, at the bedside.
Indeed this thought moved naturally on into the next presentation by Professor Yaniv Almog (Beer-Sheva, Israel) who discussed the ICU clinical decision process. Whilst acknowledging the utility of decision-making algorithms, the professor drew attention to the fact that humans, unlike computers, do not automatically follow such pathways. In any clinical decision, especially under stressful conditions like intensive care, emotions come into play and physicians have to make what is known as judgement under uncertainty.
Two major processes are in play, the intuitive snap judgement that is unconscious and based on emotional memory and rational decision making based on the evidence in front of the doctor. All probabilities need to be disregarded and rapid, knowledge-guided perception, based on the patient's condition, needs to form the basis of the decision process. Unfortunately, Professor Almog feels that this skill is difficult to acquire and is probably innate to the good physician and its lack may be one reason why mistakes are made. He also fears for a future where doctors see fewer patients in training –- and the use of simulators perhaps leads to the loss of this important ability from the doctor's skill base.
The final presentation from Professor Etienne Danse (Brussels), again suggested the need to enlarge the skill set of the intensivist by encouraging the use of echography, especially colour and Doppler instead of relying on MRI and CT-scans that may not always be readily available. Portable scanners, some no bigger than an iphone, are now available and their use can save lives by enabling real-time use at the patient's bedside. It would seem that the technology for the future is in place for ICUs – but are the future intensivists?