The 2012 American Association of Clinical Chemists convention
Did the giants bring in anything really new to this year's meeting?
During the annual American Association of Clinical Chemists (AAMC) convention and meeting held in July, the giants in the field of medical chemistry, including Siemens, Roche, IL/Werfen, Beckman Coulter, and Abbott, had a huge presence at the trade show, which filled two halls and packed in a hefty crowd. Jacquie Michels reports from Los Angeles, California.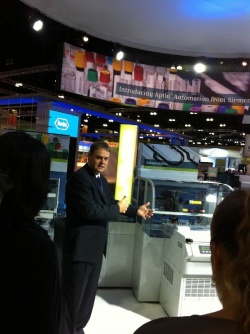 Probably the biggest introduction at the AAMC was Siemens' Aptio platform, which the manufacturer calls the next generation of lab automation. The system, filling nearly half of Siemens' booth, starts with an automated tube collection bin that saves the operator from racking samples. Each tube is bar-coded, telling the machine where along the automated track to send it and which of hundreds of possible tests to run. Each tube can be tracked automatically and sent back for re-testing if required, without ever touching human hands. STAT cases can be sent to the head of the line for priority treatment. A refrigerator unit stores the tubes for a specified period of time, automatically recalling them if additional tests are required.
The Aptio unit is just being introduced in the U.S.; a prototype is up and running in Northern Scotland. Siemens also showed a full line of training, software, point-of-care testing equipment, and scalable lab equipment to handle any workflow. Robotics is the word at Abbott Technologies. Recognising the upcoming shift in the lab technology labour force, with up to a third reaching retirement age in the coming five years, the company is focusing on making the best possible use of trained personnel.
Abbott's 'OneLab' web-based, integrated lab informatics system, can be connected to work with additional modules including sorting, centrifuge, and assays, and is designed to manage information flowing through the lab and improve efficiency. The new system is available in select European markets, and will be forthcoming to the US soon. Abbott also announced it has received FDA clearance for a new assay to detect vitamin D levels in the blood. Instrumentation Laboratory, one of the largest manufacturers of in vitro diagnostic instruments, announced at the show that they have severed a twenty-year strategic alliance with Beckman Coulter and will now handle sales, service and support functions directly with customers. The company focuses on two areas of testing: critical care and haemostasis. They have approximately fifty years of experience in these fields, and have done their own manufacturing and development throughout this time. In order to accommodate the change, IL has doubled its sales and support staff, and foresees a smooth transition. The company also announced that its fully automated Hemosil Acustar HIT assay panel is now being offered in Europe and other international markets.
Beckman Coulter, a 75-year veteran in the field of biomedical automation, introduced the AU5800 chemistry series at the show. This platform is designed to be one of the fastest and most reliable of its kind available today. Also at its display were the company's newest high-throughput chemistry analysers, clinical information solutions, lab automation technology, and cellular analysis systems, all displayed to replicate a core lab, reference lab, and regional and community hospital lab. The in-booth Innovation Station gave attendees the chance to meet industry experts and discuss how today's labs are using robotics and online advances to increase productivity and maximise staff capabilities. Interesting about Roche Diagnostic's new RALS-Plus system is its compatibility with dozens of POC (point of care) devices and testing equipment, eliminating the need for additional interface equipment. This integrated data manager uses one reporting source, one format, and there is only one programme that members of staff need to learn. Overall, the company claims it minimises the need for extra hardware. RALS-Plus also offers a single solution for managing multiple POC devices, consolidating POC results through a single browser-based data management system.
According to Siemens executive Dr David Stein, the wave of new laboratory automation and robotics clears the way for enhancements in POC technology. 'When test results are available during a patient-physician interaction, rather than weeks later, there is an opportunity for faster segue to treatment,' he said. 'This can make all the difference in overall patient outcomes. 'I believe POC testing will support the trend we're seeing in personalised healthcare, and overall enhance the laboratory's role in improving healthcare outcomes.'