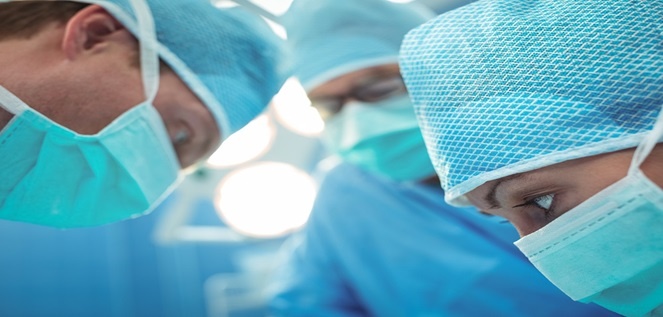 ©Thales
News • New systems
Thales presents innovations in digital radiology
Original Equipment Manufacturers (OEM) and end-users in the field of dynamic radiology can now benefit from new detectors and imaging solutions to further enhance patients' examinations.
The digital technologies produce greater quality images at a lower dose for end-users and patients, which helps OEMs to make their systems more attractive on the market. Thales is driving the shift from conventional technologies to state-of-the-art and easy to use flat panel detectors. Conventional radiology has been transformed by the use of digital images. Flat panel detectors made from amorphous silicon or CMOS are at the heart of this digital revolution. The new digital technology (detector and associated image processing solution) combines long years of experience and quality excellence whilst proposing competitive products compatible with market needs.
The flexibility and reactivity of the system can reduce costs for medical staff by enabling a higher number of patients to be seen, whilst allowing them to maintain the highest standards of care
These systems are safer for patients as they use a lower dose. Digitalization also opens the door to new applications such as tomosynthesis and 3D imaging. Radiography and fluoroscopy equipment manufacturers constantly demand new and innovative imaging solutions with added value, new applications and features to improve in this area. Always thinking ahead, Thales has already developed the Pixium range, the largest dynamic portfolio on the market for digital radiology1.
The amorphous silicon Pixium 30402 and Pixium 2020 Detectors, the new CMOS range available with the Pixium 2121, as well as the new generation of Radio-fluoroscopy large format detector are joining the Interventional Pixium family. All this range will be exhibited for the first time at the 79th China International Medical Equipment Fair (CMEF) in Shanghai.
The multi-purpose ArtPix DRF joins existing platforms in the ArtPix family, and enables healthcare professionals to be even more efficient, versatile and precise by delivering outstanding image quality (high resolution - 10 bits) in real time. The system is fully customisable and the end-user can easily personalise features such as the user interface, display configuration, image quality and room peripherals. The flexibility and reactivity of the system can reduce costs for medical staff by enabling a higher number of patients to be seen, whilst allowing them to maintain the highest standards of care.
Helping surgeons by providing images on the spot is also one of Thales's main objectives. Imaging Chain Solution (ICS) uses advanced processing of dynamic images at a low dose. The solution is compatible with our Pixium Surgical Imaging Suite including the Pixium 3030 and Pixium 2121. These detectors are designed for equipment such as mobile and fixed C-Arms, Cathlab, fixed interventional rooms and Cone Beam CT machines.
Thales ICS features cutting-edge processing algorithms and vascular features to deliver a post-processed image to the system with reduced latency. This guarantees both outstanding low dose performance and high-quality images with seamless integration with existing applications. Thanks to the image tuner accompanying ICS, image processing parameters can be adjusted in just a few clicks, dramatically reducing development efforts for integrators.
Healthcare professionals are under immense pressure to deliver high quality care, often in difficult circumstances. They are always in need of the best technologies in order to keep up with these demands, and this is what Thales aims to deliver.
The Pixium® family covers a full range of sizes in centimeters (Pixium® RF 4343FL, Pixium® 4343RF, Pixium® 3040, Pixium® Surgical Imaging Suite with the Pixium® 3030 and Pixium® 2121, Pixium® 2020, Pixium® 2630, Pixium® 2121 and Six 650) dedicated to all existing applications (cardiovascular, surgery, neurology, fluoroscopy, dental, CBCT, etc). Thanks to Trixell technology - Pixium® CsI (Cesium Iodide) scintillator on an amorphous silicon matrix and high technology CMOS available for SIX 650 and Pixium® 2121, Thales detectors deliver a high image quality.
Most recently, Thales has launched the Pixium® 3040, a state-of-the-art flat panel detector, specifically designed for 2D and 3D interventional radiology (vascular, oncology, neuroradiology) as well as CBCT (Cone Beam Computerized Tomography) machines. The 3040's features include variable rate mode, zoom, multiple gains, which make it a versatile solution for general radiology applications.
Source: Thales Group