Teamwork works well in Hamburg
One heart – One Team, the motto for this year's German Society for Thoracic and Cardiovascular Surgery Congress emphasises that cardiac surgeons and cardiologists must now work more in tandem for their mutual patients. This is not just a short-lived three-day slogan, but a daily reality at the University Heart Centre Hamburg, as EH correspondent Holger Zorn reports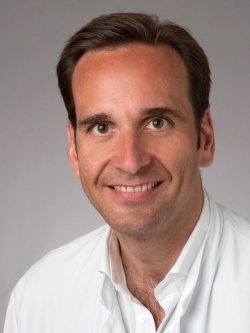 At the University Heart Centre Hamburg (UHZ), an enterprise of the University Hospital Eppendorf (UKE) led by heart surgeon Professor Hermann Reichenspurner and cardiologist Professor Stephan Blankenberg, it is particularly touching to observe this. 'When the UHZ was founded in January 2005,' consultant Dr Hendrik Treede says, 'we wanted to care for and treat all patients with heart problems under one roof -- from infants to the aged, out- and in- patients.'
New therapies, nowadays almost forcing cardiologists and cardiac surgeons to work together, were not even established then. For instance, the first transapical aortic valve replacement (TAVI; see EH 2/11 p. 8 and EH 2/12 p 8) received CE certification in 2007 (SAPIEN, Edwards) and the first transcatheter mitral valve intervention (TRAMI, see this issue) in 2008 (MitraClip, Abbott). Meanwhile, the UHZ is now not only among the pacemakers in the introduction of interventional procedures to treat diseased heart valves, but also in the development of hybrid interventions, i.e. simultaneous interventional and open heart surgery, or minimally invasive treatment of heart and cardiovascular diseases. Two things make this success: the people who work here and the technology they utilise.

The people
'But we are a team' is heard repeatedly across the UHZ premises – not only in the treatment rooms but also in the pre-operative areas, the staff break rooms or even in the goods in area. It is a statement not only heard by patients when they attend the joint admission interview but also used amongst colleagues in the same way that people elsewhere might say 'nothing to do with me'.
It is a statement that stakes a claim, an expectation of the standards for day-to-day work. Ultimately, it is a statement that must be lived on a daily basis if it is not to turn into an empty phrase. 'We surgeons cooperate with interventional procedures, the cardiologists cooperate with surgery – and this has not even been considered as the breaking of a taboo for quite some time now,' Dr Treede, says, pointing out the statement's benefit also in training future generations of doctors. In times to come, will probably have 'cardiac interventionalists' who specialise in the treatment of heart valve and coronary disease, or dysrhythmia.

The technology
The structural basis for these capabilities is the hybrid operating theatre. It combines the classic operating table and high quality anaesthesia workstation with a digital Monoplane X-ray system. Interventions on heart valves are not the only procedures jointly carried out by cardiologists and cardiac surgeons there. Vascular interventions on the aorta, such as endovascular aneurysm repair (EVAR), thoracic endovascular aneurysm repair (TEVAR), or fenestrated endovascular aneurysm repair (FEVAR), are also carried out in the hybrid operating theatre. 'Everything that can be imaged by the Monoplane DSA system is done better than in a conventional operating theatre,' Dr Treede explains, adding his regrets that the German medical reimbursement system is not keeping up with these new capabilities.
Multi-vessel coronary artery disease for instance could be operated on very elegantly in the hybrid set-up. The left main stem would be anastomosed with an artery extracted from the chest wall with its quality immediately being radiologically assessed. The stenosis in the other coronary vessels could be dilated interventionally and stented during the same procedure -- however, such an interdisciplinary treatment concept -- requiring the patient to attend hospital only once -- is not yet part of the German DRG-System.
PD Dr Hendrik Treede is a cardiac surgeon, senior consultant and Director of the Minimally Invasive Surgery Programme and Surgical Director of the Interventional Valve Programme at the University Heart Centre Hamburg. Beyond his clinical work he is a Principle Investigator for several studies to evaluate new devices and techniques for the interventional treatment of structural heart disease. He has published more than 70 peer-reviewed articles and is regulary invited to join the faculty of international cardiac surgery and cardiology conferences.