Children's hospitals
Supporting innovation at Alder Hey
The Sony Healthcare Solutions Team supported Alder Hey on its journey to a new site designed with the children it treats in mind, complete with new ORs and the latest technology throughout.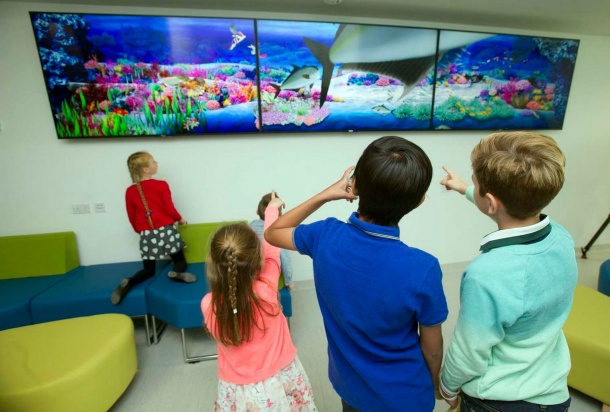 Alder Hey is one of Europe's largest children's hospitals, taking care of 275,000 young people and their families every year. In October 2015, after a meticulous 18 month planning process, the hospital moved from its old site to a new state-of-the-art location - Alder Hey in the Park.
Europe's only hospital in a park has 270 beds, including 48 critical care beds for patients in the ICU, HDU and Burns ward, together with 16 digitally enhanced operating theatres. These operating theatres are just the first step in a growing relationship between Alder Hey and Sony.
Digitally enhanced ORs
Thirteen of the new operating theatres throughout Alder Hey are equipped with two Sony LMD-2760MD surgical monitors each, installed to provide the surgeon with a higher quality viewing experience thanks to its OptiContrast Panel™ and larger screen size.
A professional 43" BRAVIA display is positioned in each OR to provide further visual content to those present in the operating theatre, and a Sony SRG-300SE camera is mounted to each ceiling to capture an overview of the entire operating procedure. All available video sources inside the OR can be shared via hospital network to all other ORs via a third party system called Nucleus. Furthermore, the system is equipped to broadcast the signal to future lecture rooms or others outside Alder Hey for educational training.
Sony Healthcare Solutions planned, delivered and installed the total solution for the OR against a tight schedule to ensure the hospital was fully operational upon opening. Collaboration between Alder Hey and Sony continues, with more inspiring technology collaboration planned for the future looking at the adoption of 4K and enhancing clinical workflows.
Sony has also provided a digital aquarium, positioned in the day light surgery waiting area, to reduce the stress level of the children. The aquarium is made up of innovative Sony technology and three 75" professional BRAVIA displays, and allows the children to colour their own 'fish' and watch it swim about in the digital fish tank. This display is currently the only one of its kind in Europe.
The hospital is supported by the Alder Hey Children's Charity, who have raised £20m for life-saving medical equipment, research and facilities to make the new Alder Hey a truly world leading place for families across the UK. Their aim is to raise a further £5m to create a more child-friendly environment in the hospital and each donation takes them one step closer to this achievement. Every donation goes towards enhancing the treatment or experiences the children and families have during their time at the hospital, from ground breaking research programs to accommodation large enough for mum or dad to stay and entertainment systems to distract and occupy patients.
More information on www.sony.co.uk/pro/products/medical-home

Source: Sony Healthcare Solution