Image source: Shutterstock/theskaman306
Article • Corona management in Taiwan
Standing united against COVID-19
Despite its proximity to China, Taiwan contained COVID-19 successfully, without a lockdown or movement restriction measures introduced elsewhere. With few new cases reported, life almost returned to normal. Behind the scenes, however, efforts have continued to maintain that positive situation. The medical directors of Taipei Medical University Hospital (TMUH), a 727-bed facility in the Taiwanese capital, explain how the coronavirus affects clinical workflows.
Report: Wolfgang Behrends
'In our hospital, COVID-19 has entirely upended daily routine,' said hospital superintendent Dr Ray-Jade Chen. In fact, protection measures set in before you even enter the building: all visitors' entrances – except one – are closed. Whoever wishes to enter the hospital has to undergo a multi-step control procedure at the one remaining open door. Since fever is one of the major COVID-19 symptoms, body temperature is taken via infrared detector; in addition, the so-called TOCC check collects information on travel, profession and contacts. Due to the sophisticated digital infrastructure in the Taiwanese healthcare system, most of the necessary data is quickly scanned from the electronic patient card every Taiwanese citizen holds.
With the exception of corona treatment, clinical procedures are reduced to a bare minimum. Elective interventions are currently not offered as distancing of patients is strictly enforced. To reduce waiting times inside the hospital, and thus the risk of hospital-acquired infections, all patients are reminded of their appointments by push messaging on their smartphones.
When in doubt, isolate
The hospital aims to beat the infection risk with strict prevention measures, Dr Chen explained. 'Any patient who presents with fever or respiratory stress symptoms is considered a potential COVID-19 patient.' This policy, according to the superintendent, is key to Taiwan's success in battling the virus. And indeed, the island has recorded very low case numbers and a low COVID fatality rate compared to its neighbours.
As far as diagnosis is concerned, TMUH uses RT-PCR tests (reverse transcription polymerase chain reaction), said Dr Li-Yuan Chen, infection expert at the hospital. 'This technique offers high specificity and is thus well suited to distinguish COVID-19 infections from other pathologies with similar symptoms.' When PCR test results are unclear, a CT scan is indicated. CT furthermore is used for follow-up.
Patients with suspected infection are moved to a dedicated ward with the availability of quarantine beds being a major aspect of the anti-corona strategy, said TMUH head pulmonologist Dr Pai-Chien Chou. To provide additional protection for hospital staff, COVID-19 patients are separated according to the disease severity.
First line treatment is the malaria drug hydroxychloroquine, which has yielded promising results in various studies due to its anti-inflammatory properties and ability to reduce virus proliferation. In severe cases, treatment is supplemented by the HIV drug lopinavir, the macrolide antibiotic azithromycin und interferon beta.
A strictly enforced strategy and diligence pay off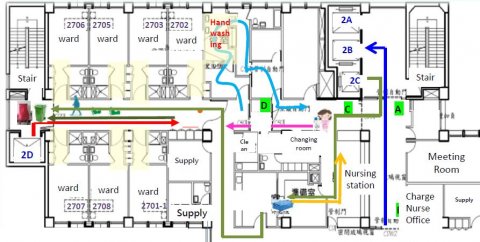 To minimise infection risk, TMUH management designed an elaborate system of work areas and routes to avoid unnecessary contact: the paths of lab staff, radiologists and nurses do not cross and supplies marked for disposal or decontamination are beelined along dedicated corridors. Before staff are in contact with COVID-19 patients they undergo a minutely monitored procedure with more than a dozen steps. This diligence pays off. 'To date, we have not seen a single infection among our staff,' superintendent Chen proudly reported. 'Should a member of our staff contract the virus despite the protection measures, we are well prepared to prevent the virus from spreading throughout the hospital,' infection expert Dr Chen added.

Image source: Taipei Medical University Hospital
'Fortunately, the infection rate in Taiwan is very low,' said Dr Po-Li Wei, deputy superintendent. 'This is, to a large extent, due to our government taking containment measures very early.' After the SARS epidemic in 2003, the Taiwanese government established the National Health Command Centre (NHCC), a central institution which has also led the efforts during the current pandemic. To avoid bottlenecks, the NHCC inter alia coordinates the production and distribution of personal protective equipment, such as masks. Digital tracking allows quick identification and warning of contacted people before they can spread the infection.
All pull together
All our employees, from technician to cleaning staff, receive in-depth training on protection measures

Ray-Jade Chen
In addition to diagnosis and therapy, the third pillar in the strategy against the virus, Dr Chen said, is information. 'As a hospital, we carry an immense responsibility and we face the challenge as one indivisible unit. Thus, we not only train our clinical staff with regard to disinfection best practices, donning or taking off protective equipment or handling patients. All our employees, from technician to cleaning staff, receive in-depth training on protection measures.'
'Our employees are worried since many questions regarding the virus remain unanswered. We take these concerns seriously and ensure that all are up-to-date and feel well protected,' he emphasised. 'This is the only way for us to ensure that we can reliably perform our duties towards the people.' Taiwan, he added, learnt many lessons from the SARS epidemic almost 20 years ago.
'At this point, nobody can tell for how long this emergency situation will last,' he pointed out. It is also important to look at other countries to gain a complete picture of developments. 'People around the globe are working hard to develop drugs or vaccines against coronavirus and COVID-19. This global sense of community has triggered many research cooperation projects and a fruitful exchange of ideas across borders. We are convinced that this is the right approach. Together we will find a way out of this pandemic.'
* This year's Medical Taiwan international medical, health and care expo (15-17 October) will follow a conspicuous theme – epidemic prevention – within which diagnosis, therapy and prevention of the ­COVID-19 will be a focus topic.
Recommended article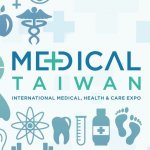 News • Healthcare exhibition
Medical Taiwan, taking place October 15-17 at Taipei Nangang Exhibition Center, Hall 2, features four major themes of medical devices, healthcare products, smart medical solutions and startups in the B2B medical industry. The show will not only showcase Taiwan's medical innovation and technology, but also include this year's conspicuous theme – epidemic prevention.