Sony launches new HD monitor for the healthcare sector
With the launch of its new LMD-2450MD monitor for use by medical professionals, Sony offers a its first high definition monitor that convinces with high image clarity and colour accuracy and therefore is ideal for endoscopic applications.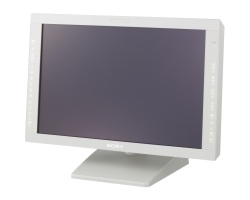 Tthe 24" monitor is fully compliant with CSA C 22.2 No. 60601 and EN60 601-1 safety regulations and UL60601-1 listed, the LMD-2450MD is suitable for use in a professional medical environment and is ideal for critical endoscopic applications.
Advanced image processing technology
LMD-2450MD offers superb picture quality thanks to a number of advanced imaging features. To enable precise colour matching between different screens, Sony's ChromaTru™ technology eliminates inaccuracies that result from variations in LCD colour levels and adjusts white balance to deliver consistency throughout all grey-scale levels. The medical monitor also incorporates a super-wide aperture (1920 x 1200) WUXGA LCD panel to deliver crisp, high-contrast images.
A 10-bit digital video signal processor ensures a smooth, natural gradation for life-like pictures. Added to this, sophisticated I/P (interlace to progressive) image conversion technology provides seamless image reproduction for both static and moving pictures.
Flexible settings for optimum performance
For optimum system performance, the LMD-2450MD offers a range of flexible set-up options. Multiple display modes – including 'picture-in-picture' or 'picture-and-picture' – provide comprehensive coverage of surgical procedures, and can be used to view both live video and captured images simultaneously.
To suit the medical context and the type of image being monitored, users can choose from 0% to 20% over-scan sizes, and aspect ratios can be set to either 16:9 or 4:3 to match the input signal. In addition, both CRT 2.2 and DICOM-standard gamma curve settings are available.
Convenience and versatility
Highly versatile, the LMD-2450MD can display images from a variety of medical equipment sources, including endoscopes. It accepts a wide range of SD, HD and PC signals, and provides parallel and serial control (including via Ethernet) as standard.
The monitor is fully compliant with the 100 mm VESA mounting standard and can be used with a surgical mount arm, making it ideal for use in operating theatres. Other convenient features include a key-inhibit function that prevents inadvertent changes to settings.
"The LMD-2450MD represents a leap forward in medical imaging technology," concludes Felip Garcia, European Product Marketing Manager, Sony Europe. "It allows healthcare professionals to view still and moving pictures with high definition clarity and accurate image reproduction – helping them to carry out medical procedures with pinpoint precision."