Point-of-care-ultrasound
SonoSite scores for soccer team
Dr Paul Klein, team doctor of the Bundesliga football club 1.FC Köln for over 11 years, has recently taken advantage of the loan of a Fujifilm SonoSite Edge point-of-care ultrasound system to monitor players during a training camp in the United States. The ten-day trip to Orlando, Florida, was in preparation for the second half of the football season, and Dr Klein was keen to have a diagnostic ultrasound system on hand to save time and reassure players should an injury occur.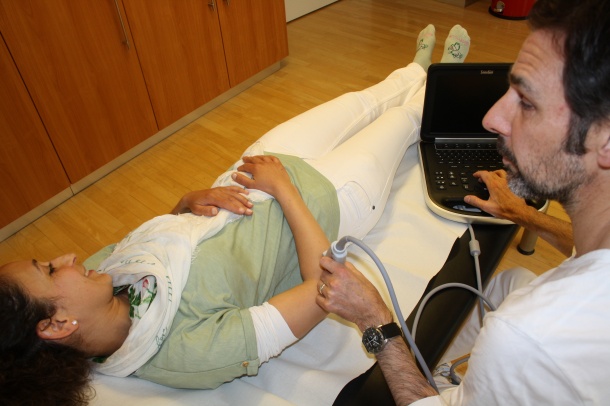 Klein explained: "It was ideal to have the Edge system with me, allowing me to have a quick look if an injury was suspected. I use ultrasound daily in my work to assess joints and ligaments, and to guide injections into joint spaces, especially in hip and shoulder joints."
"When we're training or playing at home, the players come to my clinic, in Cologne where I have a cart-based ultrasound system. However, it's not so easy when we're overseas, and players would almost certainly have to go to a hospital for scans without having a point-of-care ultrasound system available. The Edge was ideal for this trip, allowing me to get good, clear diagnoses very quickly. The players always really appreciated this, as every day counts in professional football, so when I can see clearly that there is nothing broken, torn or damaged, there is no need to slow down."
"Players move differently when they think there may be something wrong, so it was very useful to have the device there with me and be able to reassure them. The system itself is light, robust and easy to transport, and the images are of a high quality, especially for near field imaging of muscles and knee joints. You can see everything very clearly, and I very much hope we are able to buy a system to have at the club's training ground in the near future," Dr Klein concluded.

Source: Fujifilm SonoSite
More on the subject:
More on companies: