Health 2.0
SonoSite announced iViz Portable Ultrasound Device Integration
Trice Imaging announced today at Health 2.0 the integration of Tricefy into FUJIFILM SonoSite's latest portable ultrasound device. The iViz, which was recently CE marked for sale in Europe and currently pending FDA 510(k) clearance, is the latest point-of-care visualization solution by FUJIFILM SonoSite and includes Trice sharing, collaboration and routing software embedded in the device. Both Trice Imaging Inc. and FUJIFILM SonoSite will together demonstrate the technology during a session, covering care delivery platforms for provider media, at the conference on Tuesday, October 6th.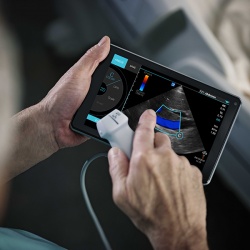 Trice Imaging is a web-based medical image sharing, collaboration and routing platform that sends medical image information directly from imaging devices. Trice is changing the way medical images are being shared and stored by medical professionals and patients. The solution gives physicians the ability to share images with their patients and colleagues for fast and cost-effective referrals and consultations. Doctors can now use iViz embedded with Trice technology to streamline patient experience and improve communication with referring physicians, in and out of the hospital.
As part of an existing relationship, Trice Imaging Inc. and FUJIFILM SonoSite most recently worked together on a project in Morocco that was awarded with the 2015 GSMA Global Mobile Award. Funded by Qualcomm, the project used portable ultrasound units and 3G connectivity to improve care for women in developing countries through early detection and treatment of major causes in maternal mortality; proving the power of connected mobile ultrasound. 575 exams were wirelessly transmitted to clinicians, resulting in lowered costs per patient and a decrease in time from 2 weeks to less than 24 hours per diagnosis.
"We are honored to be working with FUJIFILM SonoSite," says Trice Imaging Inc. CEO and co-founder Asa Nordgren. "As global pioneers in the portable ultrasound industry, they are at the forefront of the changes in the medical imaging market. Imaging devices are getting smaller, smarter and connected, making it possible to provide ultrasound outside the hospital environment. Equipped with Tricefy, iViz enables instantaneous sharing and collaboration between nurses, doctors, home-care providers and paramedics, so that diagnoses can be made remotely, saving precious time and resources. Imaging devices with embedded communication modules are the future of ultrasound technology, soon to be as common as having Wi-Fi and email embedded in your computer!"
FUJIFILM SonoSite iViz is a highly portable ultrasound machine, augmented with mobile computing and advance connectivity. Providers can make an ultrasound exam or procedure while simultaneously accessing patient records, storing exams, submitting reports and consulting with remote providers for near real-time diagnoses. Each device is embedded with Trice subscription plan and its patented encryption and authentication software, making it possible to share images on the run, wherever you are.
"We're looking forward to seeing the impact iViz holds for the future of point-of-care by empowering providers to practice visual medicine when and where needed," says FUJIFILM SonoSite president and CEO Masayuki Higuchi. "Both clinician and patient are at the center of our solution thinking. By integrating Tricefy into the SonoSite iViz ultrasound workflow we are able to provide a much simplified experience for patient and care provider with immediate medical image sharing and clinical collaboration."

Source: Trice Imaging, Inc. and FUJIFILM SonoSite
More on the subject:
More on companies: