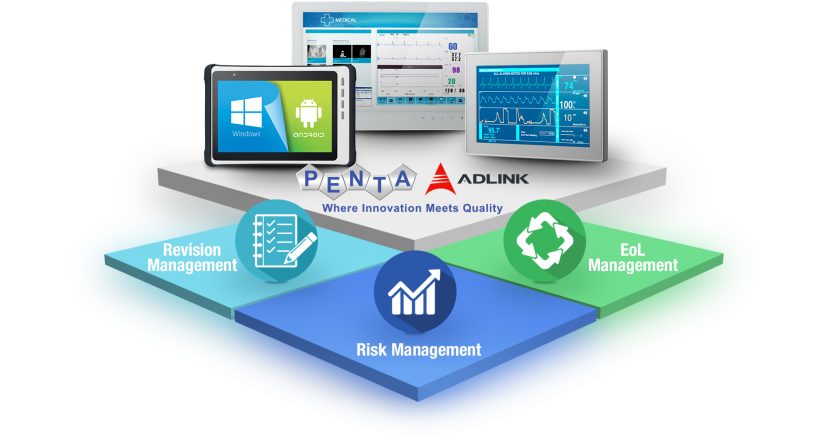 Source: Adlink
Sponsored • Innovation
Solid IT hardware and communication
When Taiwan-based Adlink acquired Penta, the buyer benefited from 20 year's experience in design and hardware manufacturing.
Today, Adlink provides state-of-the-art computing products such as advanced TCA processor blades and platforms, compact PCI/PlusIO, VPX blades, industrial SBCs, motherboards and chassis, plus embedded flash storage, computer-on-modules, rugged small form factor SBCs & systems, fan-less embedded computer, wireless internet gateways, and SEMA cloud.
The firm's IMPS product lines include industrial mobile handheld computers, smart panels, smart touch computers, industrial & panel PCs, medical PCs & display.
All these products and components are governed by strict revision control, medical regulations and risk analysis, and the firm emphasises that it also ensures support for customers who want to integrate the medical product solutions into their own medical systems. 'Adlink products also support multiple operating systems and include comprehensive and easy-to-use software packages and services, the manufacturer confirms.
Medical panel computers
The medical panel computers and monitors have been designed with optimum viewing capabilities and hygienic fully-sealed and easily cleanable housings, suitable for patient vital sign monitoring, nursing care, clinical diagnosis, PACS, anaesthesia monitoring and OR documentation.
The MLC 5 medical panel computer is designed for digitally integrated operating theatres to enable easy access to PACS images, EHRS and other relevant patient data. The device allows surgeons to manage the patient's vital parameters and other critical information during surgery', Adlink explains. 'The MLC 5 therefore is ideally used to simplify surgical patient data monitoring with superior graphic processing capabilities.