IT
Smart watch promises smarter medication
While Swatch and Rolex count the hours until their smart watches overwhelm the time market, medical informatics researchers have already been working on solutions to improve healthcare. Some demonstrated their work on a medication reminder application during the Medical Informatics Europe conference in Madrid.

Report: Mélisande Rouger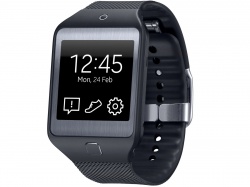 Successful therapy depends on various factors and the patient's adherence to treatment is key. However, everyone knows it's just as easy to swallow a pill as to forget doing so; and the more pills needed, the higher the probability is to not remember when and which pill to take, and how many.
The smart phone industry tackled the issue first and several apps have been designed for this purpose. However, research shows that those tools are not as effective as they should be, said research associate at the medical informatics department at Heilbronn University, Monika Pobiruchin, when presenting her team's work on a multiple medication reminder solution during the conference. 'People simply forget to look at their phones or to put the alarm on,' she said. 'They sometimes miss the alarm, especially when their phone is at the bottom of their bags, and so on.'
In addition, smart phones are not appropriate for the digitally illiterate and many elderly people. Smart phones are complex, multi-purpose devices and readability and interaction concepts can become technological barriers for the non-initiated, such as the elderly, who are more likely to consume pills than any other population group.
On the contrary, wristband watches have been increasingly used since WWII and the elderly tend to wear such devices; smart watch-based solutions are therefore an ideal option for this group, according to Pobiruchin, whose work targets a large group of patients regardless of age or technical affinity.
She and her colleagues evaluated several smart watch models, some of which are already on sale, such as Androidly, Neptune Pine, Exetech XS-3, qOne Smart Watch, Omate TrueSmart, LG GD910 and Samsung Gear S.
They looked at whether the operating systems of the devices were open and whether apps could be developed, and they also checked the watches' battery capacity, autonomy, weight and size. 'It doesn't make sense to have to recharge your watch every six hours, nor does it make sense to have an 18-hour-long autonomy only, as is the case for the Apple Watch. The smart watch shouldn't be bulky, but light to wear around your wrist,' Martin Wiesner, Pobiruchin's colleague, pointed out.
They singled the Samsung Gear S out as particularly handy because it works on a stand-alone mode, i.e. it doesn't need to be connected to a computer or phone constantly. 'The advantage is that you don't need to pair it with a smartphone via a Bluetooth connection, so no extra device needs to be carried around,' Wiesner explained.
A multiple medication reminder solution for the elderly is only the beginning, as smart watch-based applications could also be developed for diabetics to measure their blood glucose level, or as a simple reminder for women to take their contraceptive pill. A discrete alarm could also remind users that they need to take a medicine when for instance they have to deal with hypertension, Pobiruchin suggested. Wristband watches are associated with allergies and the smart versions are no exception. 'I heard of some issues with the Apple Watch and that some people already had itching and rashes,' she said. 'The smart watches we assessed are not labelled "allergy-proof" either.'
As a next step an evaluation of the prototype is planned in public partner hospitals to investigate on usability aspects and other effects related to the age of patients.
Another problem the researchers found with some smart watches and third-party apps that collect vital data is a conflict with data safety and privacy. 'Sensitive questions, such as where are collected data transferred to, and who has access to these data, must be discussed.'
PROFILES:
Monika Pobiruchin received her Diploma in Medical Informatics (comparable with the MSc degree) at the University of Heidelberg in 2010. Currently she is a research associate at the GECKO Institute for Medicine, Informatics and Economics at Heilbronn University. She is also a fellow of the Nachwuchsakademie Baden-Württemberg programme, and, has been a PhD student at the Medical Faculty of the University of Heidelberg since 2012. For her doctoral thesis she investigates the automatic generation of health economic disease models based upon real-world clinical data. Pobiruchin co-founded the project group Consumer Health Informatics within the German Association for Medical Informatics, Biometry and Epidemiology (GMDS) in 2014.
Martin Wiesner is with the department of Medical Informatics of Heilbronn University. He received the Diploma in Medical Informatics (comparable with a MSc degree) at the University of Heidelberg in 2007. Since then he has been teaching database and information systems at the joint Medical Informatics study programme of the two partner universities. His research on health recommender systems is closely related to the PhD thesis he is currently developing at Heidelberg University's Medical Faculty. In 2013 Wiesner received the Certificate of Medical Informatics by the German Association for Medical Informatics, Biometry and Epidemiology (GMDS), in which he co-founded, in 2014, the national working group for Consumer Health Informatics.