Sponsored • Ambulance chair
Safe and comfortably seated
United Kingdom manufacturer Paraid is demonstrating its latest version of the IBEX ambulance chair, used by ambulances throughout the UK.
This easy-to-use patient transport chair is designed for use across all terrains including restricted, spiral and narrow staircases, the manufacturer reports. 'The innovative product features a plastic seat and backrest with harness, which allows patients to be easy manoeuvred. It also minimises the operator's exposure to the weight capacity of the chair.' For thirty years, Paraid has specialised in bespoke transportation equipment for hospitals and road ambulances. During this time, it has become known for identifying prominent issues within the neonatal and paediatric sector and has pioneered the acclaimed ACR (Ambulance Child Restraint) and the Neo-Restraint safety products. Both products are on display here at Medica.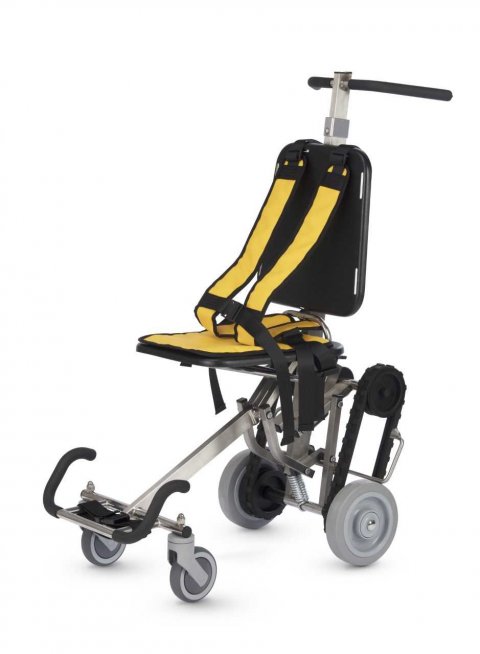 'The Neo-Restraint answers to the need for a safe, fully adjustable close proximity harnessing system reducing the harmful effects of excessive movement during neonatal transfer,' Paraid explains. 'It has been designed to secure infants ranging in weight from 500g to 6kg and is currently used by 90% of UK based neonatal transport teams. The ACR was also developed to help keep paediatric patients safe during transportation. It is compatible with all models of ambulance stretchers and can be found in more than half the ambulances across the UK.
Paraid are at the forefront of design and manufacturing patient transport systems,' the company adds. 'Using the latest 3-D CAD software, our expert design and production teams are dedicated to understanding the needs of both the patient and medical professionals. The company offers a bespoke and personalised design service, working with clients to ensure products are constructed to their exact specifications.'
Lee Searle, Head of Paraid adds: 'Paraid's level of expertise and experience means we can offer a variety of innovative transportation solutions for road ambulance, pre-hospital care, neonatal and paediatric sectors. We are committed to investing in high quality manufacturing, design and engineering in the UK and can assist customers nationally and worldwide.'
To book an appointment with Lee Searle, e-mail: lee@paraid.com
Paraid is at MEDICA: