RT-dashboard for perioperative departments
Theatre management is one of the most challenging jobs in a hospital. Picis offers a solution: Recently it has launched the Picis Perioperative Dashboard, a Business Intelligence (BI) solution for the perioperative areas of the hospitals in Europe.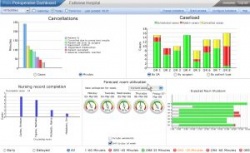 The operating theatre and its associated units are a major source of hospital costs, underscoring the need for efficient use of resources and clinical staff. However, hospitals struggle to maintain optimal theatre utilisation rates due to the unpredictable nature of the perioperative environment and patient flow. Every day, theatre managers face logistical challenges, including late case starts, delays, add-on cases, cancellations and other unanticipated events that make it difficult to align clinician and patient schedules with available operating rooms and resources. These workflow blockages cause waiting lists to accumulate and challenge hospitals to meet targets.
According to Picis, the new dashboard includes preoperative assessment units, operating theatres and anaesthesia and post-anaesthesia care. It features an intuitive graphical display that provides an easy-to-read snapshot of the current state of the surgical department, measuring case delays, cancellations, patient throughput, documentation completeness and other key indicators. With real-time actionable business and clinical intelligence, administrators and clinicians can anticipate consequences and make immediate, informed decisions to manage surgical waiting lists and increase efficiency.
"Business intelligence and clinical analytics are among healthcare's next major challenges. Dashboards that highlight important "here and now" indicators relevant to front line clinical champions and service line managers allow hospitals to gain more value from transactional systems by understanding process breakdowns and acting more quickly to address them," notes Vi Shaffer, vice president, Gartner, Inc.
Picis Perioperative Dashboard equips administrators and clinicians with intelligent, actionable and timely information to anticipate and manage the day-to-day activities of the operating theatre. An easy-to-read web page display with gauges, bar graphs, and other visual indicators highlights issues that will impact daily activities. This enables theatre managers to anticipate repercussions of problems as they arise, and more easily respond to delays and bottlenecks, helping to increase theatre utilisation rates and keep procedures on schedule. The customisable dashboard can be displayed on users' PCs, flat screens around the theatre and other displays, improving communication by providing the entire perioperative department with real-time metrics on the quality and efficiency aspects of these key care areas, while fitting into a hospital's enterprise strategy for business intelligence.
The European release of Picis Perioperative Dashboard includes a library of 17 indicators that were developed with input from a panel of nursing directors, anaesthesiologists, theatre managers, surgeons and IT professionals. In addition, five fully customisable indicators allow hospitals to construct indicators that meet the specific needs of their department or role. Picis Perioperative Dashboard is available for hospitals using the Picis Total Perioperative Automation solution — Theatre Manager, SmarTrack™, Preop Manager, Anesthesia Manager and PACU Manager. Benefits of Picis Perioperative Dashboard include efficiency gains in the following areas:
Scheduling and delays - the Picis Perioperative Dashboard indicators notify administrators and clinicians to day-of-booking and intraoperative cancellations. The dashboard displays case loads by room, surgeon, case or patient type. Additionally, theatre managers can track theatres that are running late or ahead of schedule and when rooms are expected to shut down for the day, enabling the facility to proactively reschedule procedures, switch cases to different theatres, and notify clinicians and patients to changes in the schedule.
PACU throughput - to help improve patient throughput in the operating theatre, Picis Perioperative Dashboard highlights potential post-anaesthesia care unit (PACU) capacity issues before they happen, and identifies discharge delays.
Quality metrics - hospitals can track important clinical processes and theatre protocols as they happen to help improve daily compliance and documentation accuracy.
"Hospitals in Europe are becoming more concerned with deriving maximum efficiency from their theatre facilities, especially in light of the pressure that is now being put on resources. Managing the moving parts of the perioperative department is like air-traffic control – keeping surgeons, nurses, anaesthesiologists and administrators up-to-date with theatre status is a real challenge and Picis Perioperative Dashboard addresses these issues," said Marianne Slight, senior director, Analytics and Decision Support Products, Picis. "This tool can play a significant role in helping hospitals improve on the issues that are most critical for them - efficiency, patient care, quality improvement and patient and clinician satisfaction."