RSNA 2009
29 November 4 December
Quality counts. That's the theme of RSNA 2009, the global annual assembly of radiologists, medical physicists, diagnostic imaging clinical and IT professionals, and more than 700 companies that provide products and services. For six days, over 200 scientific sessions with more than 1,500 presentations, 1,500 educational exhibits, and more than 500 posters, many interactive, can be attended and viewed at McCormick Place in Chicago.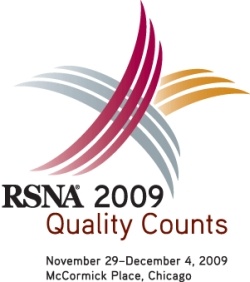 Greater emphasis appears to have been placed this year on a wider diversity of refresher courses that reflect current issues faced today by radiologists, technologists and physicists. Much importance is placed on ordering fewer diagnostic procedures but interpreting them better, lowering radiation dose, especially for children, and maintaining rigorous quality assurance and safety programmes.
A full-day series of sessions will focus on quality improvements in radiology practices.
Looking at the future, a day-long molecular image symposium will provide an overview and update of the most current research in molecular imaging and its latest technological use in neurology, oncology and cardiovascular imaging.
The use of CT in cardiovascular imaging receives special focus with a four-course, mentored case review programme designed to assist with satisfying one of the recommendations of the American College of Radiology. This special series will undoubtedly fill as radiologists endeavour to retain their turf from the imaging interpretation intrusion of cardiologists.
Last year, radiation oncology was emphasised, which is again the case with the support of ASTRO, the American Society of Radiation Oncology. Four day-long series of courses are offered, each focusing on a specialty. These represent the breast, prostate, head and neck, gynaecology, gastro-intestinal and central nervous system. This Bolstering Oncoradiologic and Oncoradiotherapeutic skills for Tomorrow (BOOST) programme emphasises the importance of diagnostic imaging to diagnose and monitor the progress of fighting cancer.
Special course tracks will be offered for radiology assistants, radiology department managers, and technologists. In addition to the expected wide selection presentations on 16 imaging specialties, there will be such unique courses as utilisation of imaging in operating theatres.
More than 30 courses in informatics will be provided. Although EU countries and Canada have taken the global lead in implementing electronic data collection and exchange of healthcare information, there are huge challenges, especially in the USA, to make the process more efficient, reduce healthcare treatment redundancies, improve patient care and make it less costly.
Courses will include topics on computerised physician order entry, structured reporting, challenges of managing IT and working with hospital IT staff, maintaining confidentiality of electronic records, better communication of critical and non-critical results requiring follow up, and data mining.
This year's Integrating the Healthcare Enterprise (IHE) demonstration will highlight the Cross Enterprise Document Sharing profile, allowing unaffiliated healthcare facilities the ability to share documents and images with any other institution in the world.
Just as RSNA attendees in the early '90s had a glimpse of the potential of PACS and mobile mammography and digital telemammography years before it was feasible for many in realistic scenarios of these technologies at work, once again there will be an elaborately staged demonstration. The Reading Room of the Future is expected to draw crowds.
One course is missing: how to avoid catching the H1N1 virus.
Report: Kerry Heathcox