Roche Launches Complete Detection Kit for Influenza A /H1N1
Roche Applied Science announced the availability of a new detection kit for the Influenza A/H1N1 virus. The detection kit is offered for use in life science research. Roche currently is filing to get approval of the local health authorities worldwide for use of the kit in emergency situations.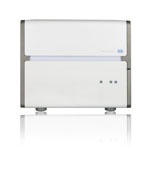 The kit runs on Roche´s LightCycler® 480 II, 2.0, and 1.5 systems. It was evaluated with virus positive sample materials and selectively identifies the new Influenza A H1N1 virus. Compared with other detection kits, it features a couple of advantages in regard to efficiency and handling.
"The design of the new detection kits benefitted very much from information we got out of our manifold research cooperations. We are glad of our contribution in supplying fast and reliable tools for the detection of Influenza A/H1N1 to the research community," said Manfred Baier, Head of Roche Applied Science.
Applied Science offers a variety of platforms that can be used to help identify the Influenza A H1N1 virus, including Nucleic Acid Purification, Real-Time PCR, Microarrays and Sequencing systems. The company is in close contact with various research institutions and test centers worldwide providing assistance in the detection and characterization of Influenza A H1N1 virus.
Currently, there is no human vaccine on the market that protects against Influenza A H1N1 infection. Standard therapy for the disease includes treatment with antiviral drugs like Tamiflu or Relenza. For more information on Influenza A H1N1 please visit www.who.int.

More on the subject:
More on companies: