Article • Radiation protection
Robotic assistants enter remote stenting
Shielding cardiologists from harmful radiation is the goal for two systems capable of navigating the vascular highway.
Report: John Brosky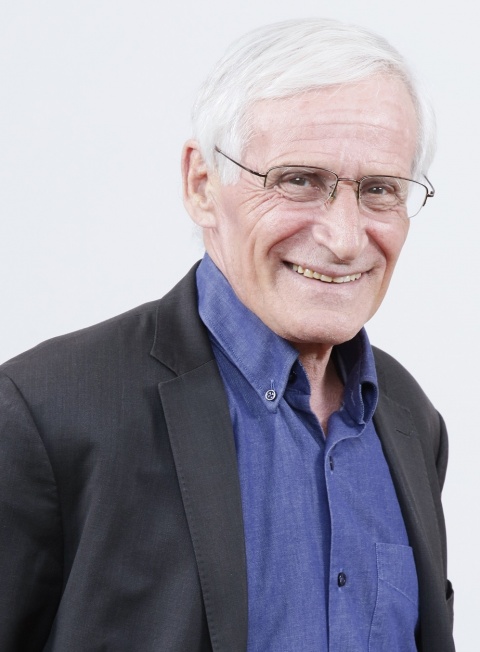 'We cannot continue to accept working in conditions that put our lives in danger,' says Alain Cribier, the pioneering cardiologist from the University Hospital of Rouen, who first implanted an aortic heart valve via a catheter in 2002. 'You don't feel anything; radiation is not painful, but there is an accumulation of dose when you do this for decades, day-in and day-out,' he explained.
A study, published by the American Heart Association in August 2016, demonstrated a direct relation between working in a catheterisation lab and developing radiation-induced cancer, cataracts and skin lesions. According to the study, interventional cardiologists accumulate significant lifetime radiation exposure in the range of 50 milliseverts to 200 mSv, which corresponds to a whole body dose equivalent to 10,000 chest X-rays. 'I have lost several colleagues to brain cancer,' Alain Cribier told European Hospital. 'We all have musculoskeletal problems,' he said, bringing out of a closet the 12-kilo lead apron he wears during 12-hour work shifts that can result in aggravated orthopaedic maladies.
At EuroPCR in May 2017 in Paris, Cribier met with fellow cardiologists on the stand of Robocath, in his role as a key opinion leader for the company, which is also based in Rouen. He discloses that he has no financial interest in the company but an enthusiasm for a system that can put a shielding wall between him and the irradiating X-ray projector that, as he points out, hovers just inches from his head during some time-long procedures.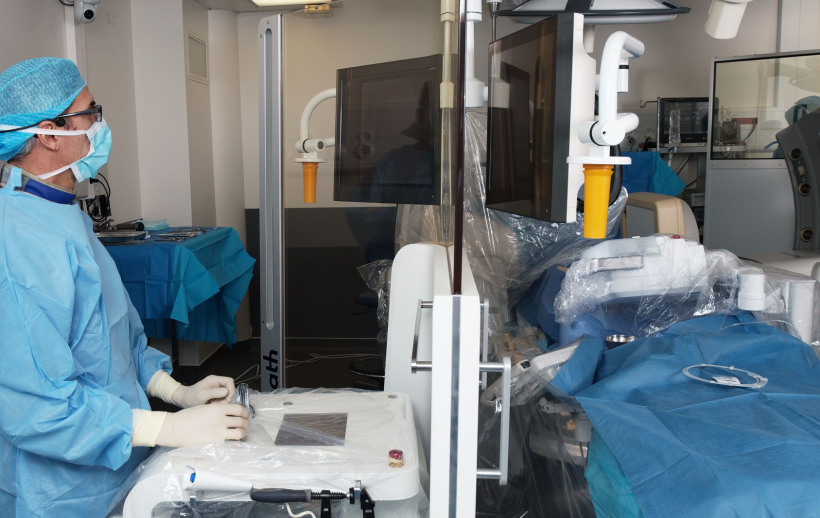 Source: Robocath
The R-One system from Robocath is not the first remote stenting robot for cardiology. Two systems approved by the USA's Food & Drug Administration are commercialised by Corindus, based in Waltham, Massachusetts, which during EuroPCR 2017 celebrated what it called a milestone for the 100th percutaneous coronary intervention (PCI) performed using the second generation CorPath GRX System. Although Corindus systems hold a CE Mark, the company has yet to sell a CorPath robot in Europe. Robocath is currently completing pre-clinical trials as part of its submission for a CE Mark approval that it hopes to receive in 2018. A submission of the device to the FDA is expected in 2019.
The results of a single-centre REMOTE-PCI [percutaneous coronary intervention] study sponsored by Corindus were published in the January 2017 edition of EuroIntervention, the journal of the European Association of Percutaneous Cardiovascular Interventions (EAPCI) and the European Society of Cardiology (ESC). PCI was successfully performed on 19 of 22 target lesions using radial access, the first demonstration of the ability to perform PCI from outside the confines of the cath lab by using a combination of robotics and telecommunications.
The CorPath 200 cockpit to control the robot was installed in a separate room, roughly 17 meters from the patient table, isolating the operator but maintaining continuous video and audio contact with both the patient and any personnel in the lab. Principal investigator Ryan Madder MD, a cardiologist and researcher with the Spectrum Medical Group based in Grand Rapids, Michigan, told European Hospital that, in addition to the stenting procedures, he has successfully utilised the CorPath robot to perform the diagnostic procedure of fraction flow reserve (FFR) to assess lesion severity.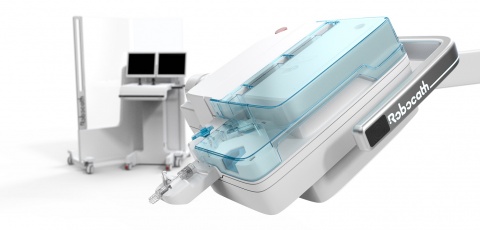 Potentially, Madder said the remote robotic system can be installed anywhere there is a fluoroscopy suite, and that it suggests a potential for tele-stenting, an ability to perform procedures in regions where PCI is currently unavailable by utilising a robotic cockpit located in a distant expert centre. 'We are still very early in this study; there's a lot of work to be done,' he noted. 'We are ways off from deploying a system to community hospitals.'
Back at the R-One robotic system from Robocath, Cribier provided a demonstration. 'This is not a totally new idea,' he said. 'There are surgical robots, orthopaedic robots, robots for brain surgery. But it was not considered possible for cardiology. I was sceptical myself but, over 10 years, I have followed the progress step-by-step as they solved technical problems.' At the patient table, Cribier feeds the catheter into a single-use cartridge, an integral part of the robotic mechanism that contains the graspers that advance and turn the guidewire.
Walking from the patient table to the control panel behind a radiation shield, he said, 'The robot does not perform anything itself, everything is controlled by the operator's hand,' he pointed out. 'I can do exactly the same things using the robot that I would do with my hands, advance the wire, retreat, rotate and push.' At the controls he advances and rotates the guidewire simultaneously, pushing and turning, something the CorPath robot cannot do.
Cribier expects in a next step the robot can be applied to peripheral artery procedures as it uses the same sized wire. Corindus has already been granted an extended indication by the FDA to apply the CorPath for peripheral procedures. As for the transcatheter aortic valve replacement procedures that he pioneered, Cribier said, 'There is no question the system can be adapted to accept these larger catheters. This system will allow physicians to go anywhere on the vascular highway.'
Profiles:
Neuroradiologist Philippe Bencteux is the founder of Robocath, based in Rouen, France.
Prof. Alain Cribier, MD is head of Cardiology at the Charles Nicolle Hospital, in Rouen University, France.