Revolutionary invention
When Leo Baekeland invented the world's first true man-made plastic in 1907, his diary entry stated that he believed that "this invention will prove important in the future." This was definitely an understatement, since man-made plastics have revolutionised life for us all, especially in the field of drug discovery with major advances in PCR and QPCR techniques undertaken using plastic consumables.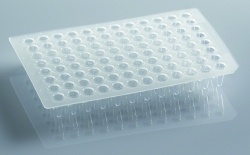 Thermo Fisher Scientific Inc., the world leader in serving science, is marking the 2nd century of man-made plastics by providing scientists with valuable ways to trial Thermo Scientific ABgene® PCR and QPCR plates via a Plate of the Month initiative.
Our Plate of the Month initiative celebrates not only Baekeland's achievements, but also those of our own development scientists and manufacturing staff who, over the last 15 years, have contributed by bringing our vast range of high-quality PCR and QPCR plates to the scientific community worldwide –securing our market-leading position.
The opening Plate of the Month celebration surrounds the Thermo Scientific low profile ABgene PCR plate (ref AB-0700). We will give away one case (containing 25 plates) of these low profile PCR plates to the first 10 applicants in November 2008. Subsequent monthly celebrations will focus on other specialist plates within the premium Thermo Scientific ABgene range.
The low profile ABgene® PCR plate has shorter wells than standard PCR plates, making it ideal for use with reaction volumes of less than 20µl. By decreasing the dead space within the well it helps reduce condensation in the well, thus preventing reduction in reaction volume and increasing the efficiency of the reaction. The plate design incorporates a raised rim around each well for improved sealing, alphanumeric grid referencing and a cut-away corner for easy plate orientation.
The market leading ABgene range combines precision design, high-quality materials and clean room production to ensure reliable and reproducible premium products that give you confidence in your results. Like all ABgene PCR plastic consumables, the low profile ABgene PCR plate is manufactured from non-porous virgin (medical grade) polypropylene and is extensively quality tested to ensure a plate of the highest quality, certified free from DNase, RNase and endotoxin contamination.

More on the subject:
More on companies: