Sponsored • Illumination
Reliable Diagnoses with Olympus True Color LED
Ensure reliable diagnoses in pathology with Olympus' market-leading LED technology. True Color LED illumination is a durable, bright light source especially designed to closely match halogen illumination, delivering accurate color reproduction every time.
The shortcomings of generic LEDs
The light produced by many LED designs does not allow reliable color distinction in a specimen. In fact, when compared to halogen light sources, generic LEDs show more variability in their emission spectra, especially in the "cyan" and "red" color regions. These wavelengths correspond to histologically important colors and their uneven relative intensity has a clear effect on the color rendering ability of an LED light source.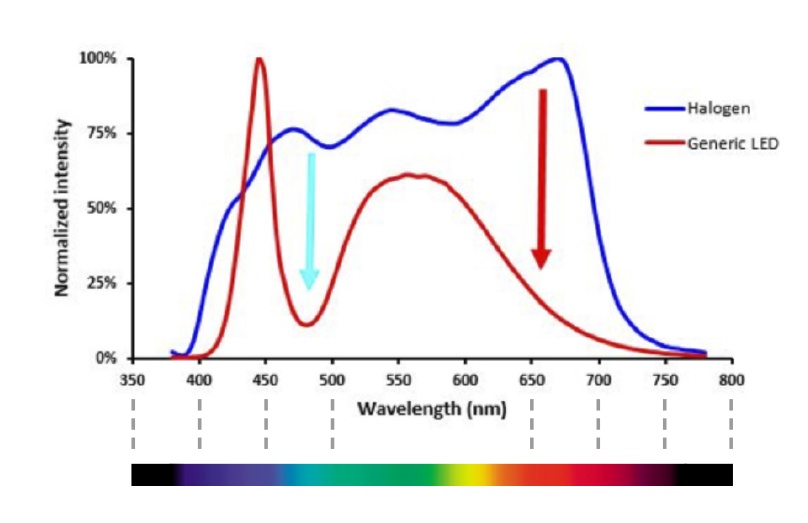 Source: Olympus
Getting the right spectra
To solve these issues, Olympus has developed the True Color LED light source which combines LED benefits – durable, bright and uniform illumination – with unparalleled color rendering capabilities. The name "True Color" refers to the fact that this new, dedicated light source specifically addresses the previous shortcomings of LED light sources and drastically improves the color rendering ability of LED equipped microscopes. Its spectrum, by specifically addressing the lower intensity regions, is much more uniform and closely matches halogen illumination.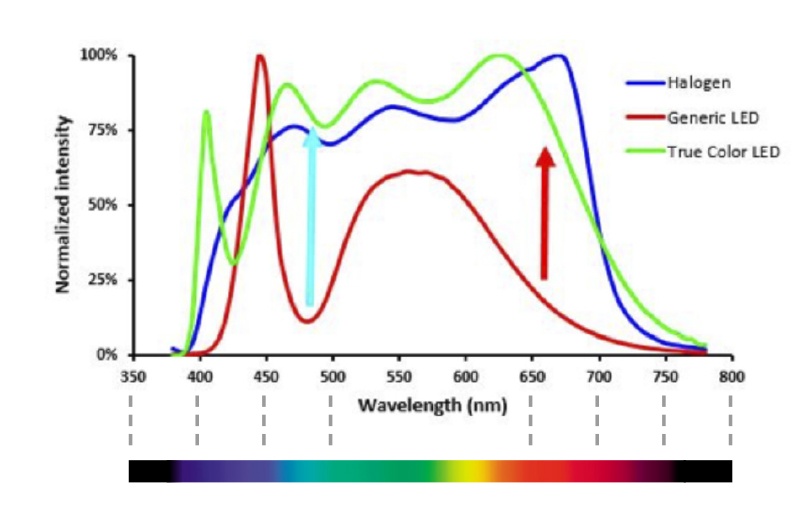 Source: Olympus
True colors = confident diagnoses
The True Color LED's performance can be visually evaluated by direct comparison against other commercially available LED light sources for microscopes on common histological stains: Hematoxylin and Eosin (H&E) and Azan Trichrome. Its color rendering ability not only closely mimics the reference halogen source but also stays constant regardless of the light intensity. This allows the operator to adjust the illumination without any distortions to the colors in a specimen.

Source: Olympus
Olympus' True Color LED chip has also been designed to produce a uniform illumination intensity over the entire field of view of the microscope. Uneven intensity can lead to artefacts when multiple images are stitched together and may require digital correction to produce high-quality images.
Ideal for clinical professionals
LED illumination holds great potential in clinical microscopy due to its uniform intensity, high brightness, low energy consumption and long lifetime. Olympus' market-leading True Color LED technology combines the benefits of LED technology with the capability to accurately reproduce sample colors - providing clinical professionals with full confidence when evaluating a stained sample.
Read the application story here.
Find out more about the Olympus BX53 microscope with true color LED illumination.
Source: Olympus
More on the subject:
More on companies: