Sponsored • Motorised system
Protec brings movement into X-ray
A motorised PRS 500 B X-ray system, added to the portfolio of Protec, specialist in traditional analogue X-ray film processing machines, 'combines efficiency, high work precision and optimum operating comfort,' the manufacturer reports.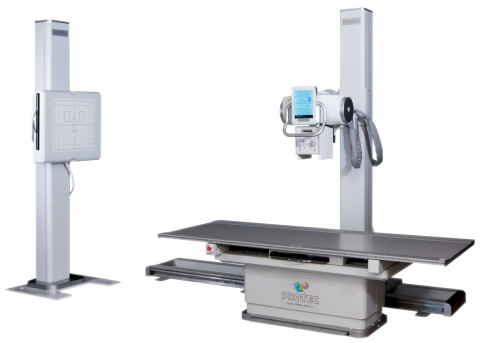 'In addition to the user-friendly touch display, it also offers an automatic retraction of the tubular column, which adapts to the position of the bucky in the wall stand or table. The X-ray workflow is optimised, thus shortening the duration of the process and greatly increasing precision and ease of use. In addition, we see the system as a combination of robust construction and high design standards, adds Björn Salwat, Managing Director Commercial at Protec.
With a strong global orientation, Protec offers a holistic product portfolio to meet the highest international standards, the firm points out. 'It comprises highly compact analogue film processing machines, detectors, software and, since 2009, complete X-ray systems and X-ray tables in the fields of human and veterinary medicine.'

Source: Protec
The CONAXX 2 software, developed in-house and tried and tested and continuously enhanced, leads to a perfect X-ray image in just a few clicks, Protec adds. 'Workflows or individual steps can be designed highly efficient and individualised by automation. An outstanding innovation in the CONAXX 2 software is Professional Image Tuning, or PIT for short. You can select the optics and quality of your images individually and automatically store the ideal image processing for you.
'Above all, the premise of intuitive user guidance comes into its own here, as touch screens, intuitive symbols and user-friendly handling enhance the software of each X-ray system and increase the operating convenience to an optimum.'
Protec is at Medica
Hall 12. Stand A 63